Deep and Resonant: The 23rd Annual TUBACHRISTMAS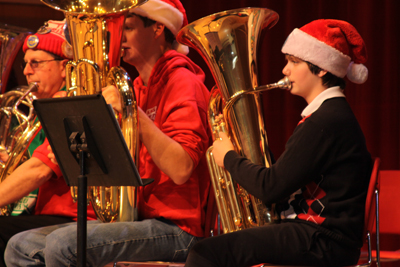 Mark your calendars! KSC's beloved and annual TUBACHRISTMAS concert is just around the corner, and the deep, resonant call is out for all professional and amateur tubists to join the band!
The concert will be held on Sunday, December 7, at 1 p.m. in the Mabel Brown Room of the L.P. Young Student Center. It's free and open to the public. The performance will feature traditional Christmas carols especially arranged for TUBACHRISTMAS by American composer Alec Wilder. Dr. Jim Chesebrough, band director at Keene State College, will conduct the 23rd Keene TUBACHRISTMAS. All area tuba, euphonium, and baritone horn players are invited to perform. Rehearsal will take place in the Mabel Brown Room at 10:30 a.m. on Dec. 7. Performers pay a $10 tax-deductible fee to the Harvey Phillips Foundation. For more information, please visit the TUBACHRISTMAS NH page or contact Dr. Chesebrough via email or phone (603-358-2193).
Related Stories