Music Soothes the Savage Legislator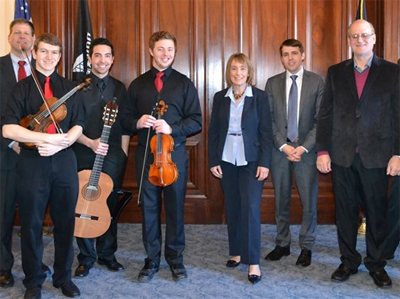 It can get pretty rough in those Executive Council meetings up in Concord. So rough, in fact, that the Governor and the Council have a tradition of opening the meetings with five minutes of music, just to get everyone started calmly. Last February, three Keene State music students, Jonathan Way (violin), Dan Ciccorello (violin), and Jordan Chase (guitar) were invited to perform short musical selections to get things started on the right foot. Music Professor José Lezcano was also on hand to tell the Councilors about the strengths and achievements of KSC's music program.
Last September, another KSC music student, Kyle Phaneuf (guitar), was invited to perform when the Executive Council and Governor met in Keene at Cheshire Medical Center on Court Street.
Related Stories