Alum Avener goes from Diver to Doctor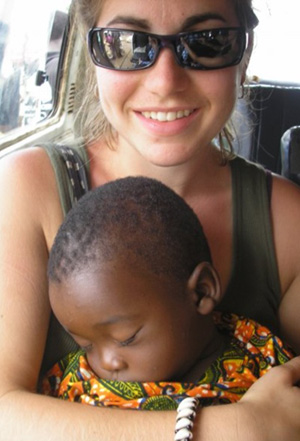 Many students come to Keene State College uncertain of their academic interests and not knowing the career paths they want to follow. That wasn't the case for Dr. Catherine (Katie) Avener, a 2004 Keene State grad now practicing at Florida Hospital Orlando. "I always knew I wanted to go to medical school," said Avener. "That was the only thing I thought about doing even when I was a little kid."
So how did Avener join the prestigious list of Keene State grads who have become medical doctors? Two words: hard work. Arriving from the small seaport city of Belfast, ME, Avener began pursuing her plan at Keene State, earning a degree in biology. Returning to her home state, she received a master's degree from the University of Southern Maine in applied immunology and molecular biology two years later, before enrolling in medical school at the University of Vermont in 2006.
Avener then headed out west, doing her family medicine internship and residency at the Natividad Medical Center in Salinas, CA, about 90 minutes south of San Francisco. In 2013, she moved to Florida, where she works for Central Florida Hospitalist Partners in Orlando. "It's not necessarily the path that I anticipated, but it's just the way things turned out," she said. "But I'm really happy with it."
Avener initially came to Keene State not for its academics, but its athletics. A former gymnast who took up diving after injuring her shoulder, Avener attended a summer diving camp at KSC while she was a junior at Belfast High. She had no idea that she would return to the school as a student athlete. She learned about Keene State from Lorie Robbins '95, a former Owl diver from Belfast who had returned to teach at her high school, and from her high school coach, Bob Winslow, whose son Aaron Winslow '01 was captain of the Owl men's squad.
While Avener made her presence felt in the pool, qualifying for the New England championships as both a swimmer and a diver and serving as a two-time captain for the Owls, she really shone in the classroom, motivated by her desire to go to medical school. "It's hard to get into medical school, so I knew I had to study and get good grades," she said.
Avener credits her advisor, Keene State Biology Professor Susan Whittemore, for steering her in the right direction. "Dr. Whittemore was fabulous and I really loved her," said Avener, who minored in political science. "She knew what I wanted to do and helped me pick classes. You had to plan ahead and be pretty methodical about it if you wanted to get all the right classes in and graduate on time."
"Katie had a sunny personality and a can-do attitude, and was a pleasure to have in class," said Whittemore. "I always appreciated her letters, cards, and updates. She helped KSC pre-med students while in medical school at UVM, allowing them to visit and even stay with her, and showed them around."
Avener made the most of her time at KSC, posting an impressive GPA (and eight semesters on the dean's list) while on the swim team and participating her senior year in the College's Academic Excellence Fair.
At Southern Maine, Avener took part in considerable research and received a National Science Foundation Fellowship through the Maine ScienceCorps, a program that brings grad students and equipment into rural classrooms.
On to UVM College of Medicine
Avener got her wish when she was accepted into the University of Vermont College of Medicine, noted for its progressive nontraditional teaching model and a strong emphasis on primary care. While many med students come from prestigious private schools and wealthy families, Avener espouses the education she received at state schools. "I went to three state schools, and I felt the education I got at all three places was really strong," she said.
Avener equates med school to drinking from a fire hose. "Essentially you get fed this massive amount of information in a really short time," she said. "It pretty much consumes your whole life."
Unlike the traditional four-year med school model, which consists of two years in the classroom and two years in a hospital or clinic, UVM, according to Avener, focuses on delivering patient care. "They pushed us out into the hospital after a year and a half," she said. "We ended up doing about a year and a half in the classroom and two and a half years of clinical training."
Avener did her clinical training close to home at Maine Medical Center in Portland, eventually deciding to pursue a career in family medicine. Avener called the process of applying for residency nerve-wracking. Once they decide on a field, applicants apply to numerous programs and go through a series of intensive interviews. Both the students and the programs each do a ranking that is fed into a computer, which spits out a match. Avener ended up getting her first choice – Natividad Medical Center.
Medical school graduates have to do a residency to get licensed and board certified to be able to practice independently. Despite working crazy hours and earning minimal compensation, Avener thoroughly enjoyed her time in the three-year training program at Natividad. The center's rural setting allowed her the opportunity to work with a diverse community. "A lot of the care we did was for farm workers," said Avener, who even learned Spanish while working in the program. "It was definitely not a traditional medical training program, but I loved the patients and the community."
Begin pull-quote…

Katie … helped KSC pre-med students while in medical school at UVM, allowing them to visit and even stay with her, and showed them around.

…end pull-quote
A desire to be closer to family on the East Coast and a disdain for cold weather landed Avener in Florida, where she works as a hospitalist—a physician whose primary professional focus is the general medical care of hospitalized patients. Sub-contracted by the hospital, her group takes care of patients who either don't have a primary care physician or have a physician who doesn't make visits to the hospital. "It certainly represents a change in health care, but in terms of outcomes and expenditures it's proven in the last decade to be successful model for health care delivery," said Avener.
Avener works a busy seven-day-on, seven-day-off schedule. Taking the overnight shift allows her the opportunity to concentrate on patient care rather than many of the administrative duties that take place during the day. "That's the best part of my job," said Avener. "It's incredibly satisfying – and such a privilege – to see a person recover from an illness, or heal from an injury, or just to be there at the bedside talking with patients and families when they are feeling scared or sad and to feel that perhaps I was able to bring them a bit of comfort. I feel so very lucky to be able to do this work and I cannot imagine doing anything else."
Avener traveled back to Keene last January to attend a swim team reunion, where she was able to reconnect with many of her former Owl teammates. Watching a KSC meet that was video-streamed into the event, Avener said she is very proud of the current Owl swim team and the work of Coach Jack Fabian, whom she met when she competed at KSC. "I really like Jack," said Avener. "He does great things with the team and stresses academics."
Avener certainly knows that the discipline and dedication needed to do well in athletics and academics can take you far in your career.
Related Stories