Career Opportunity is Knocking—via the Business Speaker Series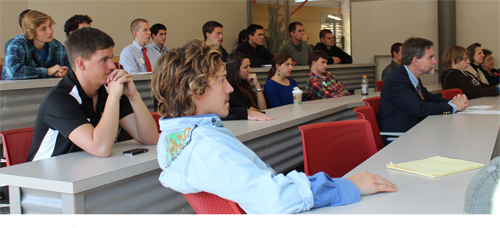 Keene State is developing strong relationships with a wide range of companies in New Hampshire and beyond. From information technology to life sciences to precision manufacturing, these companies are looking for bright and motivated young people. Senior managers from these companies will be on campus to talk about their businesses, their needs, and career and internship opportunities, presenting a great opportunity to learn more about a wide range of companies and the sorts of careers potentially open to you. These events take place in Rhodes Hall, room S 203, at 6 p.m. on the dates listed (all are Wednesdays).
October 15 — Markem–Imaje
Markem–Imaje, based in Switzerland and with a large facility in Keene, designs, manufactures, and supplies specialized printing systems for industrial applications. These are sophisticated, networked, computer-driven systems that employ a range of printing technologies. The company also develops and manufactures inks that use a variety of chemistries. With sales of over $900 million, this company sells and supports its systems all over the world. Mike Kowalczyk and Rich Randall will introduce the company and what it does and talk about the skills they need and the opportunities for careers.
October 29 — Northeast Delta Dental
Based in Concord, NH, Northeast Delta Dental sells a range of dental insurance plans to companies and individuals in Maine, New Hampshire, and Vermont. The company has strong company values that drive its participation in and support of many beneficial projects around the state. Come hear Tom Raffio, president and CEO talk about the company and opportunities there.
November 5 — TRC
Based in Lowell, Mass., and with offices across the US as well as in London, this large, publicly traded company offers engineering, consulting, and construction-management services to the energy, environmental, and infrastructure markets. KSC alum John Cowdery '85 is senior VP and sector manager of TRC's environmental services sector. Come learn more about TRC and career opportunities there.
November 12 — Avitide
Avitide, a biotech company based in Lebanon, NH,  provides a technology platform that discovers and develops high-performance custom affinity purification solutions for the biopharmaceutical industry. Kevin Isett, the CEO, will be here to talk about his company, its technology and markets, and career opportunities there.
 November 19 — Savings Bank of Walpole and Centrix Bank
Come learn about two very different types of banks: Savings Bank of Walpole, is local community bank whereas Centrix is a commercial lending bank based in Bedford, NH.  Greg Tewksbury, president and CEO of Savings Bank of Walpole, and KSC alum Brian Lavoie, senior vice president of commercial lending at Centrix, will talk about their business and careers in banking.
December 3 — Hitchner Manufacturing
Come learn more about Hitchiner Manufacturing, a growing and innovative company based in Milford, NH. Many of the things we use on a daily basis, from cars to electronics, are made from cast metal. It's a centuries-old process, but Hitchiner is bringing this process into the 21st century!  Tim Sullivan and Scott Biederman of Hitchiner will talk about their business, industries they serve, and career opportunities with the company.
Related Stories