Profs Benaquist and Sullivan at National Academy of Television Arts and Sciences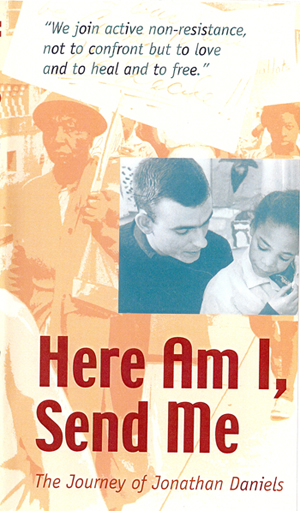 Emeriti professors Larry Benaquist (Film Studies) and William Sullivan (English) will be speaking in New York City at the National Academy of Television Arts and Sciences' "Meet the Filmmaker" event for their roles as co-producers of the 2003 film, Here Am I, Send Me. The film, narrated by Sam Waterston, tells the story of Keene native Jonathan Daniels, an Episcopal seminarian and civil rights activist who was killed in 1965 in Haneyville, Alabama, as he tried to protect Ruby Sales, a young African American civil rights worker. Daniels and Sales attempted to enter a store to buy soft drinks when Tom Coleman, an unpaid special deputy, barred their way and leveled his shotgun at Sales. Daniels stepped in front of her, taking the shotgun blast and dying instantly.
The film, the result of over 10 years of research and interviewing, traces Daniels' life, focusing on the evolution of his social commitment. It was presented nationally on PBS and features interviews with many heroes of the civil rights movement and Jonathan Daniels' friends and family. Morris Dees of the Southern Poverty Law Center, praised it as "a powerful portrayal of the heroic life of a civil rights martyr, murdered for his ideals." Here's the trailer:
There will be a reception from 6–6:30 p.m. The program begins at 6:30. Seating is limited, so those who would like to attend must reserve a seat. Please write "Jonathan Daniels" in the subject line.
Related Stories