Ryan Hart a Finalist for Rising Star Award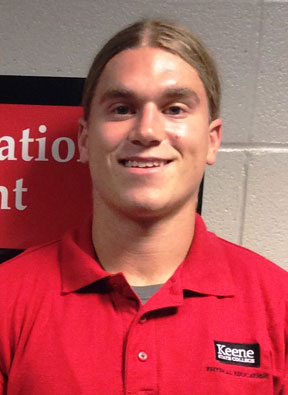 Most people in the Monadnock area know Ryan Hart for his athletic exploits, especially his uncanny ability to dodge opponents on the lacrosse field and fire a ball into a net or set up a teammate with an accurate pass for a strong scoring opportunity – a skill he has displayed countless times and with high proficiency, first at Monadnock Regional High School in Swanzey and the last three years at Keene State College.
While lacrosse is a big part of his life, it's not the only part. A stellar student in the classroom who hopes to use his athletic prowess and communication style to become a physical education instructor, Hart also has an inherent affinity for and commitment to helping others – whether it's a family member or a disabled child living in an orphanage in Jamaica.
These amazing attributes helped Hart, a senior from Richmond, NH, become a finalist for the New Hampshire Rising Star College Student of the Year award – an initiative of Stay Work Play, in partnership with New Hampshire Public Radio, to celebrate and recognize the state's remarkable college students who are academic rising stars and give back to their community. Although Hart didn't win the award announced on Oct. 6 in Manchester, he was proud and humble to be a finalist.
"I was happy to be nominated and be one of the finalists," said Hart, who was joined at the event by KSC physical education professors Donna Smyth and Joel Feldmann as well as his parents and grandparents, who came up from Chicopee, MA. " I work really hard and it's nice to be recognized for it. Hopefully I can continue to do good things."
Hart was nominated for the honor by Smyth, chair of Keene State's Physical Education Department. "The description of the honor sounded as though they had written it for someone like him," said Smyth. "He was the first student that I even thought of or would even consider."
Like most graduating high school seniors, Ryan Hart was anxious to get his college career under way. Accepted to Keene State College in the fall semester of 2010, Hart, who led Monadnock Regional to the Division III finals as a junior, was looking forward not only to the academic challenge in the classroom, but also to the opportunity to pursue his athletic aspirations, joining Keene State's well-regarded men's lacrosse team and playing alongside his older brother Ian, a standout midfielder for the Owls.
Although his desire to go to school was strong, Hart, who draws inspiration from his faith, felt a stronger inner force pulling him in a different direction – one he couldn't ignore.
In 2010, the Harts welcomed a new addition to their family, which already included eight children ranging from 21-year-old Ian down to one-year-old Liam. While parents Rob and Cathy Hart had their hands full at times taking care of their large brood, there was a spiritual yearning among them to bring another child into their home through adoption. Their prayers were answered when Moses, a four-year-old boy from Jamaica, came into their lives.
Although he'd spent some time with his birth mother, Moses was raised in one of the many orphanages that care for disabled children in Kingston.
Born with cerebral palsy – a group of disorders that can involve brain and nervous system functions, such as movement, learning, hearing, seeing, and thinking – Moses needed a lot of care.
Moses was initially brought to the United States by an older couple. However, as Moses got older and harder to handle, he was made available for adoption. Undeterred by his disabilities and his need for constant care, the Harts welcomed four-year old Moses to their family with open arms.
"Moses inspires the kids," said Cathy Hart. "When you want to complain, you look at Moses. He doesn't have it easy and he appreciates anything you do for him."
"Having a brother like Moses teaches you patience and helps you appreciate the little things in life," said Ryan. "It's not easy at times, but when you take a step back and look at all the hardships Moses has in his life, you quickly become very appreciative."
The plight of Moses and children like him deeply touched Ryan Hart – enough for him to forego his first year at Keene State. Instead of heading across town to KSC, Hart, who was home-schooled and later took courses at Monadnock Regional, headed to Jamaica for two weeks, volunteering with an organization called Missionaries of the Poor. There, he experienced first-hand the lives of sick and disabled children.
"I've never seen kids in such tough shape and bedridden. They would die if people didn't take care of them," Hart said. "It's really hard work and sometimes you get overwhelmed, but you also find an inner peace because you know what you're doing is a really good thing."
It didn't take Hart long to get attached to the children. "You feel so much compassion for these kids," he added. "Amazingly, they really are happy – they don't really know any better. They're happy that someone is there to take care of them. They latch on to you and don't want to let you go."
Forever moved by his experience in Jamaica, Ryan returned home and began his first semester at Keene State in the fall of 2011. It wasn't long before he was making his mark on the field – and in the classroom, posting an impressive 3.969 GPA.
"In the classroom, Ryan may actually work harder than the teacher," said Dr. Fitni Destani, an assistant professor of physical education at KSC. "He would often keep me on my toes as to what is coming up and he had in-depth and carefully articulated questions that pushed not only me as the teacher but his peers as well to perform at higher limits."
"We are only as good as our students and Ryan brings out the best in each of us," added Smyth. "Ryan is a leader and a role model for his colleagues – a humble role model. He brings everybody else up and, boy oh boy, when he's in the class, all the students know that this is going to be a good class."
Hart quickly displayed his affinity for teaching during his practicums. "In Secondary Practicum, I had the joy of watching him develop into a confident and caring teacher," said Destani. "Ryan took the time to really get to know the students because he cared about them, and the students picked up on his integrity, compassion, and love for physical activity."
This semester, Hart is doing his student teaching, working first with KSC alumnus Tod Silegy '76 at South Meadow School, a middle school in Peterborough, and later joining Johnna (Dow) Kress, a 1998 Keene State grad, at the Benjamin Franklin Elementary School in Keene.
Throughout high school and college, Hart has also volunteered his time by coaching youth sports in the community. Hart will wrap up his four-year career with the Keene State College men's lacrosse team this spring. "Ryan is a diverse kid and that's what I like about him," said KSC Lacrosse Coach Mark Theriault about the All-New England and All-Little East player who helped lead the Owls to their fifth conference championship and NCAA Tournament appearance last year. "He's not just a lacrosse kid. There is so much more that's going on with him."
And it's that diversity and commitment to others that has set Ryan Hart apart. He is the kind of special person who will travel to Jamaica to work with disabled children in orphanages, the kind who, during one of many family camping trips, will strap his young brother on his back and climb 4,000 feet to give him the sensation of being at the top of a mountain.
There's a reason why Smyth, in her letter to the Rising Star committee, called Hart "the best human being that I know on the planet."
"I say that because he embodies goodness, kindness, and authenticity," she said. "It's my observation that the world does not revolve around him. He's obviously committed to his own professional development – his athletics and academics – but doesn't solely focus on himself. It's about how he can help you every day – the other person. And you get a sense when you speak to him that he really means that."
While Hart would like to win the Rising Star award, those who know him and people he has touched with his kindness already know he's a winner.
Related Stories