Alumni Hero: Jenna Fanelli '13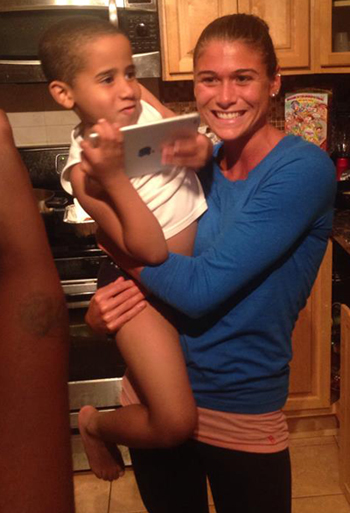 On Sept. 8th, 2013 alum Jenna Fanelli took Keene State's motto, "… go forth to serve," to the limit when she dove into treacherous currents in the Hudson River to rescue Stephen Jones, a six-year-­old autistic boy. Fanelli, a recreational therapist at the Andrus Children's Center in Yonkers, NY, was at the river for a recreational outing with her students when Jones went missing.
When the boy was first spotted in the river, Fanelli, a registered lifeguard, was in the bathroom assisting two of her students. Another rescuer, 40­-year-­old Boyce Coleman, had jumped into the water but was overcome by the current and drowned as he attempted to reach Jones.
"One of my co-workers came into the bathroom screaming that there was a child in the river, and they needed my help," Fanelli recalled. "With no hesitation, I ran to the fence, jumped over, and had my co-worker take off my jewelry. I had no idea who the little boy was; I just jumped in because it was a child, and I believed I would find strength in me to beat the currents."
And beat the currents she did, pulling the boy to safety. She was honored for her heroism at the Pocantico Hills Board of Education meeting on Sept. 23. Read all about it in the Tarrytown Daily Voice.
Related Stories