Keene State Dedicates DeMar Finish Line Marker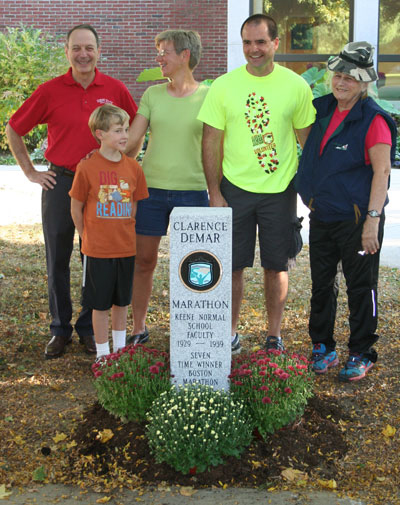 The Clarence DeMar Marathon now has an official finish-line marker. On Saturday, a day before the 37th running of the race, Keene State held a dedication ceremony, unveiling the finish-line post that will permanently link the marathon to its namesake—Clarence DeMar, an industrial arts teacher during the 1930s at then Keene Normal School, who brought fame to the College and area by winning the prestigious Boston Marathon seven times.
College and race officials as well as DeMar family members attended the ceremony. Betty DeMar, one of Clarence's five children, and Dawn Roberts, one of his eight grandchildren, were on hand.
"It was a really special event," said Roberts, who was impressed with the race's logo (designed by KSC graphic arts student Kevin Sherry '12) depicting the Appian Way arch outlining a shield that features the silhouette of DeMar breaking the finish-line tape.
Jay Kahn, the College's vice-president for finance and planning, welcomed the DeMar family members to Keene State on behalf of President Anne Huot. "Clarence DeMar was such a celebrated figure nationally and here in the city of Keene," said Kahn. "In 1930 he won his last Boston Marathon—it's an aspect of history and prestige for the College, and now we can preserve that connection with this finish-line post. They can change the course, but the 26.2 mile mark will always be right here at this spot." DeMar was 41 when he came in first in Boston for the final time.
"For me this is the culmination of a lot of great things," said Alan Stroshine, race director for the DeMar Marathon the past three years. "When I learned who Clarence DeMar was, I knew the marathon was a platform that was worthy of building into something much bigger than it was before. We've taken his legacy and combined with Keene State and the Elm City Rotary and built off that."
Gary Allen, a noted long-distance runner, storyteller, and motivational speaker from Maine, concluded the event by reading a Boston Globe article from Sunday, April 20, 1924, entitled "Wonder Man DeMar Wins Marathon in Record Time" – a story about DeMar's fourth Boston Marathon victory.
Now living on a farm near Stanton, VA, Betty DeMar has fond memories of her father. "When you think about it, he accomplished in his lifetime things that people couldn't do in four or five lifetimes," said Betty DeMar. "I was never into sports too much, but I was proud of him and appreciated his accomplishments as I got older. Everyone made such a big deal of it, especially every April when the marathon rolled around."
Roberts, who now resides in South Portland, ME, was back in Keene for the first time since 1983, when she attended the marathon with her grandmother, Margaret DeMar Arnold. "This is bittersweet for me," she said. "I look back and feel sad that that time is gone. But it's very exciting to come back and see that this marathon has taken on a new life. There's a lot of energy around it."
"I was born after he died, so my relationship with him is through stories," Roberts added. "There are a lot of stories about running and then there are a lot of stories about the Keene Normal School. That relationship was clearly very important to him." Both Betty DeMar and Roberts participated in the DeMar half-marathon race.
Though hundreds of runners taking part in kids', super-senior, and half-marathon events crossed the finish line before him, it was only appropriate that the runner to win the marathon was a Keene State grad—George Adams '94, who at the age of 44 won his third DeMar championship with a time of 2:41.17.
Clarence DeMar would've been proud.
Related Stories