Spanish Harlem Orchestra plays Latin Jazz at Redfern Arts Center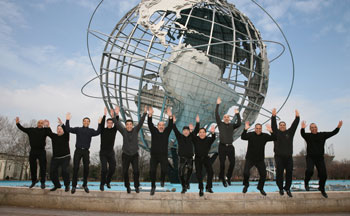 Get ready to salsa to the beat of Latin Jazz with two-time Grammy Award-winning Spanish Harlem Orchestra on Friday, September 26, at 7:30 p.m. at the Redfern Arts Center at Keene State College. The 13-piece all-star salsa big band will play a program of sizzling contemporary Latin music that's sure to include selections from Spanish Harlem Orchestra's (SHO) newest album to be released just 10 days before they perform on the Redfern's Main Stage. See a video of concert action and get more information about this New York City Latin music powerhouse, at keene.edu/racbp/events_music/spanish_harlem.html
Before the concert at 6:45 p.m. there will be a preshow talk on the History of Salsa and Latin Jazz with Keene State Music Professors José Lezcano and Julian Gerstin in the Harry Davis Room of the Redfern Arts Center. The talk will include samples of various instruments and their roles in the vibrant musical genres that make up salsa. Following the show there will be a reception with the Spanish Harlem Orchestra in the lobby where audience members can mingle with SHO musicians. Refreshments and sweets will be on the house. The pre- and post-show events are free and open to the public.
Tickets to the SHO concert range from $50 to $30, depending upon seating, and $5 for KSC students. For tickets, contact the Redfern Box Office, which has extended its hours this season and is open Monday to Friday, from noon to 6 p.m. Call 603-358-2168 or order tickets online at keene.edu/racbp.
Now in its fourteenth year, Spanish Harlem Orchestra or SHO, as they are known to fans, is dedicated to the sounds of the barrio, which gave rise to boogaloo, Latin soul, and salsa in the 1950s and '60s and pop reincarnations in the '80s and '90s. Led by Oscar Hernandez, a world-renowned pianist/arranger/producer, SHO propels the classics into the 21st century with music characterized by the raw, organic and vintage sound of New York City salsa.
"They make you get up and dance, tap into the good-natured, communal spirit characteristic of salsa at its timeless best," according to the Los Angeles Times.
With four albums, and a fifth to be released September 16, SHO has established itself as a standard bearer of contemporary Latin music with two Grammy Awards for Best Salsa Album and another for Best Tropical Latin Album.
The SHO performance is sponsored by Cambridge Trust Company of New Hampshire and Markem-Imaje, a Dover Company, and co-presented with the Keene State College Music Department.
About Redfern Arts Center at Keene State College
The Arts Center is named in honor of Dr. Leo F. Redfern, Keene State College President from 1969 to 1979 for his vision, commitment, and eloquence on behalf of the arts that made funding and construction of the facility a reality. In 1981, KSC inaugurated this new performing arts center, with the goal of providing unforgettable artistic encounters for the campus and community. Since then, the Redfern stage has hosted hundreds of amazing shows, from internationally renowned artists to emerging young talents to KSC's own student performers. Over the years, the Redfern has expanded its outreach programs, curricular and community partnerships, becoming an indispensable resource for the Keene community and beyond.
Related Stories