Meet New Keene State Faculty: Eric Carpenter – Physical Education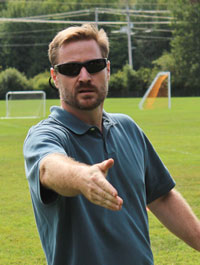 There's usually an adjustment period when you take a new job. It takes time to get the lay of the land and get to know a lot of new people. However, that wasn't the case for Eric Carpenter. Hired this fall to fill a vacancy in Keene State College's Physical Education Department, Carpenter didn't need a tour of Spaulding Gym or a meet-and-greet with faculty members.
A native of North Kingstown, RI, Carpenter is no stranger to Keene State. As a doctoral student at the UMass-Amherst in 2005, he not only participated in a teaching practicum in Keene State's Physical Education Department, he also did a tour of duty as an adjunct, teaching a class for Linda Millard, a longtime faculty member who was on sabbatical.
Although his travels around the campus and the city were brief and limited, Carpenter also recalls visiting the area as a teenager and hiking Mount Monadnock with his dad, Fred. "As a family, we were into camping and hiking in New York, New Hampshire, and Maine, and it remains a focus for my wife and me as we relocate to New Hampshire," he said. "My son Max (age 3 1/2) surprised me with his love of running on trails around Robin Hood Park, too, so we will be training for a whole family hike up Monadnock in the near future."
Completing his doctorate, Carpenter spent the past seven years working as an assistant professor in the physical education teacher education program at Salisbury (MD) University. When the opportunity to return to Keene State surfaced, Carpenter was intrigued. "My past experiences with the program, knowledge of its strong physical education faculty, and the ability to be a contributing member of the department all stood out," Carpenter said.
Conversely, Dr. Donna Smyth, chair of the Keene State Physical Education Department, and the search committee liked what Carpenter brought to the classroom. "We had other applicants, but his background really caught our eye," she said. "He had experience not only as a physical education teacher educator, but as a school principal, as well as the skills and knowledge that would really enhance what we want to do here in the department, especially in the area of teacher certification."
Carpenter worked hard to develop his skills and experience in the field. Influenced by his dad, who was a physical education teacher and coach, and other family members in the teaching profession, Carpenter found his calling. Earning his undergraduate degree in physical education from Springfield College, he decided to put off grad school and go right into the classroom. "I needed to work and get out there and do good things," he said.
Carpenter's teaching experience took him from an inner-city school in Springfield, MA, where he learned Spanish from his students, to a rural school off the coast of North Carolina.
Retuning to Springfield College to earn his master's degree in educational administration and supervision, Carpenter decided to give administration a try, taking a job as an assistant principal at a middle school in southern Rhode Island. Carpenter called it a "wild" profession. "The highs and lows are so extreme in administration," he said. "You get to see the best and the worst of student life."
Tired of dealing with issues related to management, scheduling, budgeting, and discipline, and looking to retain his interest in instructional leadership, Carpenter returned to school again, earning his Doctor of Education (Ed.D.) degree in teacher education and school improvement from UMass-Amherst.
Anxious to return to teaching, Carpenter was directed to Smyth, a graduate of the same doctorate program. Little did he know at the time that his work at Keene State with Smyth would have benefits down the road. "It was a blast for me to be in the teacher-education program and co-teach with Donna and work with Linda," said Carpenter. "Both are dynamic and bring something different to the table."
Joining the Keene State faculty this fall, Carpenter will enhance an already strong physical education staff, offering new ideas and perspectives, including his knowledge of sports pedagogy – the different ways of teaching sports, games, dance, and exercise and showing people how to teach those skills. "Over time I learned the more you can empower students to learn and teach each other, the better it will be," he said. "I see my work coming to life through their work. If I've done a good job they should get major concepts, be able to apply them and communicate clearly with their audience."
Carpenter is also looking forward to going on the road and watching and mentoring student teachers who eventually become models in the field. "One of the things that shined through in my interview with the KSC faculty was the ability of the teaching education graduates to get jobs and develop into leaders in our field in New Hampshire and outside the state," said Carpenter. "That was really important to me. We need to make sure our people are ready for this wonderful profession."
Getting his feet wet, Carpenter will teach a variety of classes this fall, including a foundations intro course, a student-teaching seminar, and a class in track and field. "Eric has hit the ground with ten toes running," said Smyth. "There's no hesitancy. He's willing to step in and work with us on projects and with students. He's been a nice fit and we're pleased and thrilled that he accepted our position."
"Being from Rhode Island, my wife (Karolina) and I were determined to return to New England at some point in the future, and Keene State was definitely a target school based on my positive past experience, great location, and vicinity to family," said Carpenter.
Carpenter joked that an omen played a role in the move. "The big decision to accept the KSC position, restart the tenure process, and relocate from Cambridge, Maryland, to Keene, New Hampshire, was reinforced by the owl in our neighborhood back in Maryland," he said.
Related Stories