Meet the New Keene State Faculty: Jo Dery – Film Studies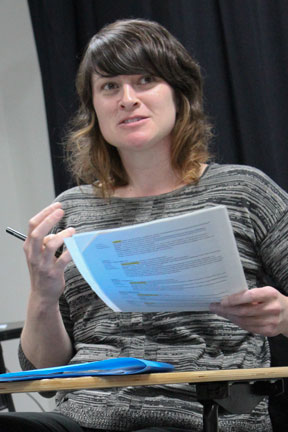 Is there a fledging Walt Disney or John Lasseter of Toy Story and Cars movies fame walking down Keene State's Appian Way? Thanks to Jo Dery, we might find out. Dery, a native of Attleboro, MA, joined the College's Film Studies department this fall. She'll teach a variety of courses and help launch the program's first sojourn into animation.
"I think young people love learning animation," she said. "People have a vague idea of how it works, but once they start to learn about what's behind it they really become fascinated and drawn into it."
"When beginning the search process for a new faculty member, the Film Department identified certain areas of focus that would be a welcome addition to the curriculum. Animation was certainly one area on our list," said Department Head Jonathan Schwartz. "Jo Dery brings experience as an active animator/educator as well as within many related areas such as visual storytelling, drawing, story boarding, creative collaboration, and other print and time-based work."
Dery gets very animated when talking about animation. "Everyone loves animation – and now with computers and software that are so accessible it's a really great way to make a film on your own," she said.
Dery came to film through the fine arts. Interested in drawing and painting growing up, she also discovered animation, becoming enthralled by the early special effects in films like Star Wars and the blend of animation and action in Mary Poppins. "It really captures the imagination," she said.
Dery earned a BFA in film/animation/video from the Rhode Island School of Design and an MFA in interdisciplinary arts from Goddard College. She has completed residencies at the MacDowell Colony and the Virginia Center for the Creative Arts, as well as participated in an animation workshop at the Academy of Fine Arts in Krakow, Poland.
Dery sees teaching as a complimentary practice to making her own work – a way for her to keep learning and a way to bring things that she learns into the classroom. "I keep learning from my students and I find it really fulfilling," she said. "I really enjoy the relationship – how creativity teaches people about themselves. Through creative activity you learn about who you are and how you want to be in the world. That's exciting."
After earning her BFA, Dery taught elementary and middle school art in Providence through AmeriCorps (a program dedicated to directly impacting the future of students in low income communities across America). She later taught classes at Rhode Island College and Roger Williams University, and from 2011 to 2014 was assistant professor of animation in DePaul University's School of Cinema and Interactive Media.
Using her creativity inside and outside the classroom, Dery is an artist who experiments with storytelling with her short films, drawings, prints, little books, and comics. Her short films have screened at festivals nationally and internationally, and her drawings and prints have been exhibited in major cities around the country as well as in Berlin.
Dery feels Keene State is a nice fit for her. "I really believe in public education and really wanted to be in an arts and humanities program," she said. "I also wanted to move closer to art – art is really my first love."
Animation has become a big part of film curriculums in colleges around the country and a big part of Hollywood. There's a reason why animated movies like Disney's Frozen, Toy Story 3, and The Lion King are listed among the top-20 all-time grossing films. "I think it has a lot to do with imagination and our capacity for wonder and the inner-child in each of us, but I also I think it has a lot to do with technology, commerce, and entertainment," Dery said.
With the ability to make Pinocchio's nose grow, help Simba find his destiny in The Lion King, and turn adults into happy children, animation has become a staple of the film industry and hopefully will become a big hit on the Keene State campus. "From my perspective, students will certainly be excited to explore animation techniques and other modes of storytelling," said Schwartz. "There's an enthusiasm for animation regarding both technical skill acquisition and creative possibilities."
The only public institution in New Hampshire with a major in film production, Keene State plans to upgrade its facilities for film studies majors in the coming years. Schwartz said the school has bought new equipment to support the new animation course, including new motion graphics/animation software, and will teach techniques used to promote character and story development. Schwartz stressed that students will also gain a different set of organization skills, increasing their pre-production skills and technological vocabulary.
"It's exciting. Everyone is enthusiastic about having an animation course. I think the students will embrace it," said Dery. "If you're interested in working independently and have a strong imagination, animation opens up some doors for you. Some of the principles of animating were developed by the Disney animators of the '40s, and they stand true today."
Those principles will now be taught at Keene State.
Related Stories