Gibson Goes out a Winner in Final Football Game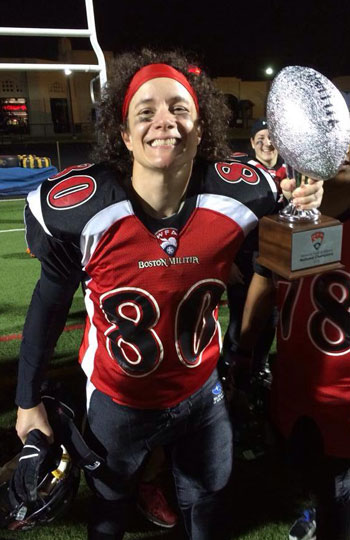 Few professional football players get to experience the exhilaration of winning a championship in the final game of their careers. While National Football League greats like Jerome Bettis, Ray Lewis, and John Elway accomplished the feat after helping their respective teams win Super Bowl championships, Keene State College's Tomi Gibson can now claim the same distinction after helping the Boston Militia, a women's full-contact football team, capture the Women's Football Alliance (WFA) crown.
It might have lacked the same pigskin pageantry and fanfare as when John Elway was triumphantly carried off the field after leading the Denver Broncos to their second straight championship in Super Bowl XXXIII, a 34-19 win over the Atlanta Falcons, but Gibson felt on top of the world as she walked off the field following her team's 69-34 victory over the Sand Diego Surge in the WFA title game held August 3 at Lane Stadium in Chicago.
"I decided before the game that this was going to be it, so it was amazing to finish my career with a championship" said Gibson, a 5' 10", 160-pound defensive end for the Militia. "It was something I didn't think I was going to be able to have."
Gibson had good reason to savor her team's title. A savvy veteran of 14 seasons, Gibson paid her dues in a sport that few realize exist. While women's tackle football has been around for over four decades, the sport has seen its biggest growth in the past seven years when the Women's Football Alliance consolidated the country's most successful franchises under one banner in 2007. This past season, the WFA, which plays its games from April through June with playoffs stretching into August, fielded 42 teams in two divisions.
Players in the WFA come from many different backgrounds. Many, like Gibson, are former high school and college athletes looking to extend their competitive sports careers. Since playing football doesn't pay the bills, most have regular jobs. A network tech at Keene State by day, Gibson moonlights as a professional football player three times a week, driving down to Massachusetts for practices and games. "Over the years, I think I sacrificed a whole vehicle to football," said Gibson, a 1995 KSC grad, who joined the College's IT staff after earning her master's degree a year later.
Gibson has also made her share of physical sacrifices, tearing both ACLs and shoulders during her career. She almost missed the championship game after a knee injury, suffered against the Chicago Force six games into the season, put her on the shelf.
The game against the Force, who had knocked Boston of the playoffs the past two seasons, had become such a heated rivalry that it was moved to a neutral site in Pittsburgh.
You can't just walk on the field and expect to beat a team like the Force. If you don't have a good game plan, you're in trouble. Gibson's assignment in the game was to meet the Force with force, disrupting their pulling guard so the running back couldn't get up a head of steam and escape into the Militia's secondary. The Steelers had Jerome "The Bus" Bettis and the Force had Kelsey "Megabus" Casey, a former offensive lineman moved to running back. In a reverse of roles, Casey, who is a nurse, does a lot of hurting instead of healing when she's on the field.
"My only purpose in the game was to be the human speed bump and try to slow down 'Megabus,' so I just kept on throwing myself on the ground," said Gibson. "But you can only do it so many times. There was one pile too many and my right leg broke in three places."
Gibson, who had not missed a game in 10 years, thought her career was over. Not ready to take off her helmet just yet, Gibson worked feverishly to get back on the field. Her hard worked paid off when doctors gave her the go ahead to dress for the championship game. Overcome with emotion, Gibson, who had missed the teams' three playoff games, said she cried when her teammates elected her game captain for the championship game.
Born in Louisville, KY, Gibson grew up in Merrimack, NH, where she enjoyed playing a variety of sports, including tackle football. "I hung in there as long as I could, but it gets to a point where the boys start picking on you because you're a girl," said Gibson. "I finally had to stop playing."
Although she played a couple of seasons of softball at Merrimack High, Gibson really didn't reconnect with another sport until she joined the club rugby team at Keene State. Gibson loved every part of the game, including the camaraderie, physical play, and parties. "I always wanted to play football, and I thought this is the closest I would get," she said.
But she was wrong. Searching for a flag football team to join after graduating, Gibson came across a website looking for players to try out for a women's football team in Hartford. "Both my parents were very concerned when I had the tryout, but after they saw my love and passion for the game, they were wonderfully encouraging," said Gibson, who grew up watching New York Jets games on television with her father.
Gibson not only made the team, but earned a starting spot, playing safety for the Connecticut Crush of the National Women's Football Association. Gibson's first game was against the Philadelphia Liberty Bells. "I'd never seen a women's football team before, and I was so nervous my knees were knocking," said Gibson.
Gibson, who started a game at every defensive position during her career, ended up playing 10 seasons for the Crush before moving on to the Manchester (NH) Freedom and the New England Intensity that hailed from Taunton, Mass.
Realizing that her career was coming to an end and wanting to go out in style with a championship, Gibson decided to join the Boston Militia for the 2014 season.
A devoted Jets fan growing up, Gibson held the same animosity for the Militia that she had the hated New England Patriots. "They were my rivals. They were like the evil empire. I never wanted to play for them," said Gibson about the Militia. "It would be like a Jets fan going to play for New England."
What was the reason for her change of heart? "I wanted to win. I knew it was going to be my final year and wanted to go out with a bang and try to win a championship," said Gibson. "Boston was just so much better than any of the other teams."
Gibson's "if you can't beat 'em, join 'em" approach proved to be right move. She finally had the championship she worked so hard to attain. "I'm going to miss it, but it's the right time," said the 41-year-old Gibson. "The game has a way of catching up with you physically."
Gibson said she hasn't decided how she will fill the void in her athletic life. "It was an experience that I didn't think I would have. It changed and touched my life completely," she said. "It was the focal point of my life the last 14 years. I avoided marriage and family. Football was always number one. I'm sure I'll go back to playing softball in local leagues, but it's not going to be the same."
Related Stories