Honors Students Visit South Africa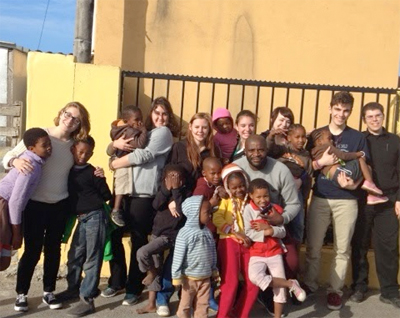 Last spring, Honors students in the Global Engagement course took a journey to South Africa to witness firsthand a country moving from years of oppression, violence and strife under the Apartheid system to a nation struggling to transform and rebuild itself. The trip, led by Professor of English Anne-Marie Mallon and Professor of Psychology Karen Jennings, also focused on the psychology of those who undergo personal trauma and who live through traumatic events, and so the students visited sites relevant to the Apartheid era and met with psychologists and trauma workers.
"The course and trip were designed for Global Engagement, and for us to experience the country on a deeper level than we would have if we were just tourists, and it was very successful," said Holocaust and Genocide Studies major Katherine Marren. "I think I can speak for my classmates when I say that this trip was extremely powerful for everyone—we were all taken out of our comfort zones and learned so much because of that. We heard so many different stories and were able to witness a country in the midst of re-building itself and its ideals."
According to the class/trip syllabus, the goal was for the students to "develop a global perspective on contemporary issues, problems, and events, as well as examine and shape how their own identity as global citizens requires participation in those issues, problems, and events." From that perspective, the trip was a remarkable success that expanded the students' awareness of global events and the issues in South Africa. "The trip has had a profound impact on my life and has changed it." Marren recalled. "I am more aware of my own culture and society, and I feel more of a need to have a global presence. This trip has really solidified for me that I do want to spend some time abroad in my future, helping those recover from conflicts and those stricken by poverty, and I know that many of the other students feel the same way."
"It was an intense and powerful journey for all of us," Dr. Mallon said.
Katherine Marren recorded the trip via a blog. For lots of photos and accounts of their adventures, check it out.
Related Stories