KSC Reps Advocate for Music and Arts Education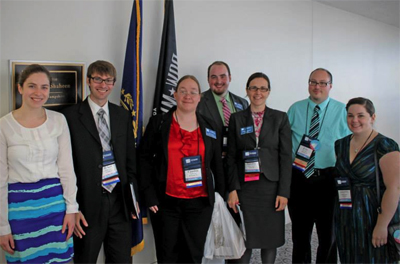 Earlier this summer, representatives of the New Hampshire Music Educators Association (NHMEA) spent a week in Washington, DC, discussing the importance of music and arts in pre-K–12 education. NHMEA is a federated state association of the National Association for Music Education (NAfME), which is the national voice for advocacy for music and the other arts in education. As part of the week, six delegates—including Sean Meagher '12 (NHMEA state editor and music coalition chair), KSC Associate Professor Sandra Howard (NHMEA President), and senior music education major and former KSC NAfME chapter president Samantha Fowler—met with staff members in the offices of NH senators Jean Shaheen and Kelly Ayotte, and Congresswoman Ann Kuster to explain the value of music and arts for its own sake and their role in fostering growth of the whole child.
"Our greatest accomplishment through this trip has been developing relationships with our state representatives," Sean Meagher said. "Our college students were able to make a more personal connection by sharing stories of how music education has benefited them. They did a great job of putting a face and story behind the legislative agenda, which served to balance out our discussions."
Over the past decade, NAfME had been focusing its advocacy arguments on research that shows that music and arts education leads to improved test scores in other academic disciplines, higher grade-point averages, and higher graduation rates. Recently, however, the organization has shifted its thinking and is now developing what it calls the Broader Minded Campaign, which holds that music education offers inherent benefits by supporting emotional awareness, reflective learning, process orientation, decision-making skills, and focus. The arts also foster such valuable skills as creativity, collaboration, communication, and critical thinking. "These inherent benefits are the attributes of a broader-minded education and are what we believe will set our students apart in the modern working world," Meagher said.
"We spend so much time sharing with others the way that music benefits other subjects," Samantha Fowler explained, "but the real reason why I am in this profession is for what music can give to an individual. Music transcends boundaries, gender, race, and other obstacles that seem to separate us. … Reflective learning, process orientation, and decision-making skills are just a few of the tools that music gives our students to be successful in school and in life."
The participants felt good about the relationships they forged with other association members and with state legislators. "Our discussions help inform the direction of the music education profession, professional development needs, teacher evaluation, and national core arts standards," said Dr. Howard. "Having reps from New Hampshire, including from K–12 and higher ed, we are able to share perspectives on needs of all students as they develop in to well-rounded individuals—a message that's very consistent with the philosophy of the liberal arts model we offer at here at Keene State."
"For me, this trip was an honor and a gift," Fowler said. "We are always told in our methods courses that we need to advocate for our jobs and advocate for music education, but until this weekend I never truly understood just how crucial this aspect of being a music teacher was, nor what went into it. Hearing the stories from the other NAfME members was inspiring."
Related Stories