Non-traditional Student Pais Has a Lot on her Plate at Keene State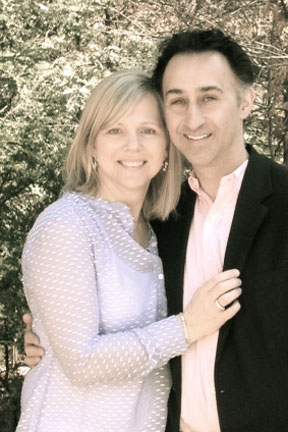 Young people throughout the country will soon be packing up their bags and heading to college for the first time. As much as it can be a tumultuous time for many fresh-faced first-year students arriving from high schools, imagine what the experience can be like for a growing number of non-traditional and older students, who are either coming to campus for the first time or returning to school after a long academic lay-off.
Sandra Pais can certainly sympathize with those in the latter category. Pais, who is originally from Ware, MA, and now lives in Quechee, VT, not only made the bold move to return to school at the age of 46, but did so with a husband and two of her four children still living at home.
Enrolling at Keene State College last fall, Pais, who briefly attended American International College in Springfield, MA, after graduating from Quaboag Regional High School in 1985, wanted to do something different. After earning her nursing degree from Becker (MA) College in 1997, Pais, a registered nurse, decided to change her career path and major in health science with the intention of becoming a substance abuse counselor. After considering several schools, Pais felt Keene State was the best fit.
Pais had a few things working in her favor. Many of her credits transferred in, allowing her to come back to school as a junior. Then there were the many years of experience she brought into the classroom.
"I believe being a non-traditional student helps me bring something else to the classroom than students right out of high school," she said. "I am the same age as some of the professors, so when we are talking about certain topics I can relate on a different level. On the other hand, the young students bring a lot into my life. They are smart, energetic and friendly. They don't look at me as though I am a hindrance and they are always interested in what I have to say."
However, Pais admits there have been a few drawbacks. Not the most computer savvy person, she had to get up to speed with a new technology. "There were no computers when I went to college the first time, so it was very scary and chaotic for a while," she said. "They're talking about 'Blackboard' and I said, What? Is it a chalkboard? I remember being in the library with all these young kids and constantly asking them questions. Can you help me get on this site? Fortunately, they were very helpful."
Pais took a long and sometimes difficult route to Keene State. Married at 19, she left American International College to tend to the two children she had by the time she was 22. Working towards a degree in nursing, Pais took night courses at a few community colleges before enrolling at Becker.
Pais went on to work for several years at Memorial Hospital at the UMass Medical Center in Worcester, where she met her second husband. The family hit the road from there, living in Boston, North Carolina, and Kentucky before returning to New England after her husband, Vernon, a urologist, accepted a job at Dartmouth-Hitchcock Medical Center in Lebanon.
After staying home with her four children, Pais was faced with a decision. She could either return to nursing or try something different. Up for the challenge, she picked the latter route, enrolling as a full-time student at Keene State last fall. "I appreciate college more as an adult because I am paying for it and putting kids through school at the same time," said Pais. "Some of the classes I'm taking in health science relate pretty strongly to my degree in nursing. That's helped a lot."
Marjorie Droppa, a health science professor at Keene State, said she felt an immediate bond with Pais. "All my three degrees came as I gave birth to my three children, so I really felt a kinship with Sandra," said Droppa. "She tries so hard to give 100 percent in all areas of her life, and she succeeds because her passion for health science and addiction in particular is very real."
Droppa feels non-traditional students like Pais bring something special into the classroom. "I'm so excited when I see non-traditional students in the classroom because they are usually your top students," Droppa added. "They are working, they have a family life, they are balancing all of these things, and they are paying for school. So when you have that type of responsible individual in your classroom, it's nothing but a blessing."
Energetic and extremely motivated, Pais, who is taking three classes this summer, is on the fast track to graduate. "If all goes well and I can keep this pace up I should be able to graduate next spring," said Pais, who travels over an hour each day to attend classes.
Pais said she'd like to work at a rehab facility like the Brattleboro Retreat or Phoenix House after graduating, and would also like to get a master's degree and do personal counseling. "There are days when I'm exhausted, but I'll tell one of my professors or they can see it," said Pais. "They'll say, 'you're doing it, you're almost there,' and it pushes you along."
Related Stories