Christopher Swist Organizes Tribute Concert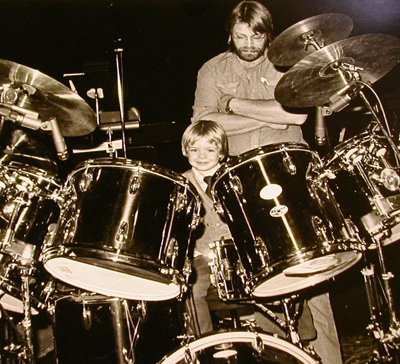 Keene State's Resident Artist in the Music Dept., Christopher Swist, is the music director for "The Show Must Go On," a tribute to his father, Lawrence Swist, musician and audio engineer/producer.
"My father was a giant in the music technology field, and of course my mentor in recording engineering," Swist said. "Dad had two platinum albums and five gold albums and built recording studios all over the world. … Last fall before he got really sick, he came to KSC and gave a masterclass to our Intro to Music Technology class on acoustics and how he builds recording studios. Many of the students met him and were excited about the chance to get a peek into the high-end audio world."
"The tribute show is a celebration of his art and the art he helped others make," Swist continued. "Dad's wife, Jessie Galante, and I have organized the event and will be performing for it. The title, 'The Show Must Go On,' is a Queen song that Jessie covered on her latest CD and I recorded the drums for. It is, ironically, one of the last productions Dad ever recorded and mixed. My wife, Marcia Lehninger, also played violin on the track so the song has tons of personal connections."
The show will be held at The Tralf Music Hall in Buffalo, NY, on August 6 at 8 p.m. Several musicians from the spectrum of Lawrence Swist's career will perform, including personnel from Chuck Mangione, Spyro Gyra, Tina Turner, Rick James, and Lawrence Swist's original band, Flash. Lawrence Swist was a type 1 diabetic, so the concert is also a benefit for the American Diabetes Association.
If you'd like to know more about Lawrence Swist's career, check out the tribute article SonicScoop ran on him.
Related Stories