Tim Tourville '97 Wins Doctoral Dissertation Award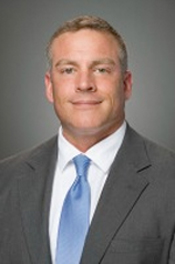 Tim Tourville '97, PhD, ATC, CSCS has recently received a national doctoral dissertation award from the National Athletic Trainers Association Research and Education Foundation. Dr. Tourville is a research assistant professor at the University of Vermont College of Medicine.
After graduating from Keene State, Dr. Tourville moved to Vermont, where he worked in clinical sports medicine, predominantly with postsurgical orthopaedic patients, as well as those experiencing low back pain and osteoarthritis. He attended the University of Vermont, where he earned a master's degree with a focus in exercise science, and later a doctorate in clinical and translational science. "I wanted to learn more about the research process and how therapeutic exercise and modalities could be used to more effectively treat these conditions," he said.
He received the Vermont Association of Athletic Trainers's Excellence in Athletic Training Award in 2013 for his outstanding contributions to the field. His current research focuses on post-traumatic osteoarthritis (OA), examining the earliest changes in OA that occur after acute knee trauma and then evaluating the mechanisms and predispositions of OA.
Dr. Tourville credits his mentors at Keene State for fostering his appreciation for evidence-based practice through student mentoring programs and coursework. "Evidence-based practice and dissemination/application of new knowledge were constantly emphasized during our didactic and clinical education at Keene State," he recalled. "I didn't realize just how exceptional my undergraduate experience was until I left and started working in the sports medicine field with graduates of other programs. I'm still amazed at how devoted all of the faculty and staff are to their students, and I know the program has continued to evolve and get better over the years. I'm not sure the current students know just how fortunate they truly are to be in that program."
Related Stories