KSC Students Work with Faculty and Staff to Increase Physical Activity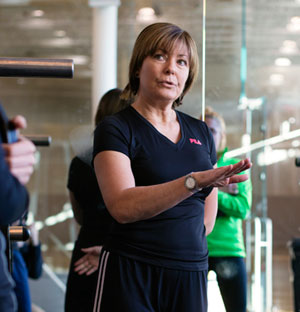 Twice a year, Karen Crawford, the assistant director of Human Resources at Keene State, puts out the call for a few good men and women. No, she's not recruiting people for the Marine Corps; she's lining up faculty and staff volunteers for a class called Physical Activity and Health.
Put together by Marjorie Droppa, an assistant professor in the college's Health Science Department, the class was introduced and developed to teach health science majors the essential role physical activity plays not only in learning, but in their career development as future health professionals.
Students who have taken a couple of prerequisite biology and nutrition classes are eligible to sign up for the mandatory course, which gives them the opportunity to design, implement, and evaluate a physical activity program for real-life clients.
The class went from a two- to a four-credit course last fall. "We realized that we needed to give the students a hands-on experience," said Droppa, who is starting her fifth year at Keene State. "You can't teach physical activity just in the classroom. It should have a very large practical application component as well. The revised course recognizes the significant increased role physical actively plays in an individual and population health outcome and aligns with our college's mission to give our students a chance at real-life learning."
The class is a collaborative effort involving many departments on campus, including Health Science, Physical Education, Recreation Sports, and Human Resources.
Of course, the students can't put together exercise plans for real-life clients without the real-life clients. That's where Crawford enters the picture. Her job includes the implementation of Healthy KSC, a series of initiatives to promote wellness in the Keene State workplace – making her the ideal person to recruit faculty and staff to volunteer to help out.
Before each semester begins, she sends out an email, subject line "A Unique Volunteer Opportunity," which uses a two-prong solicitation, appealing to faculty and staff members who want to fulfill belated pledges to get physically active and also help students with a highly worthwhile learning experience.
Crawford says the course and other Healthy KSC programs not only encourage faculty and staff to invest some time in their own health, but also help Keene State's bottom line. "If people exercise, know their numbers (cholesterol, blood pressure, etc.), and seek medical care early, then small problems don't blow up into major concerns," she said. "We're not spending money on health care, but on other initiatives on campus."
The response has been positive. Droppa reports there is a waiting line for the 10 openings in the class, which meets once a week at Spaulding Gym.
The collaboration continues in the classroom. Droppa's health science students team up with students participating in an exercise science practicum in a unique peer partnership. Students in the practicum, taught by Chris Miles, the manager of the College's BodyWorks fitness center and an adjunct in the Physical Education Department, serve as mentors for the health science students, providing fitness coaching, motivation, and health tips for each volunteer.
Miles calls it a "nice mix." It gives her exercise science students, who write the workout plans and guide the volunteers through various activities, a chance to gain the confidence and knowledge associated with the job of a personal trainer. The health science students learn how to develop a program that fits a client's abilities and goals.
The collaboration doesn't end there. Faculty and staff members who participate in the class also receive a hands-on nutrition session with Keene State dietetic intern. If a volunteer doesn't' have a membership to Spaulding Gym, the fee for the guest pass is picked-up by HR in the Fall and the Health Science Department in the Spring.
After filling out forms, doing a pre-fitness assessment, and going over health histories and goals, the volunteers push forward with the physical regimen, which includes workouts to improve stamina and strength. The class proved to be just what the doctor ordered for several staff members in a pilot project last fall.
"It's on my calendar every day to get to the gym, but I never get there. So I said, let's try this out, and it turned out great," said Jim Draper, Keene State's director of Purchasing and Contracting Services. "I hadn't been in a weight room since high school, and they got me back there two days a week doing different exercises."
"I have struggled with my weight forever, and one of the biggest challenges was finding a way for me to incorporate exercise into my daily routine. And I saw this as a wonderful opportunity to do that and hopefully have it become a part of life," said Susan Ericson-West, the grants administrator in the Office of Sponsored Projects and Research. "It was very successful in that – one of the key things I got out of it – I need a trainer. I need somebody to show up for and they will tell me what to do and I'm good with that. But left to my own devices it just doesn't happen."
Because it was a class, the clients also felt an obligation to the students. "This was an appointment I wasn't going to miss. Everything got scheduled around it," said John Halter, the budget coordinator at KSC. "The students' grades depended upon it. One day I had a cold and I was afraid if I didn't show up they'd get in trouble."
On the other side of the ledger, the students appreciated the opportunity to work with actual clients. "I was looking forward to the experience," said Meghan Sullivan, a soon-to-be senior nutrition major from Middlebury, CT. "We talk about cases in a notebook, but this was a chance to work with actual clients."
"I thought it was really fulfilling. As a student I hadn't been in a professional setting and able to interact on that level," said Kelsey Bumsted, a senior health science major from Exeter, NH. "We took what we learned in the health science program and put it to practice. It made it more meaningful being able to see progress than recreating it in a class."
While the students didn't take a no-pain, no-gain approach to the training, they did expect a strong and committed effort by their clients – something that Ericson-West and other volunteers really appreciated. "I had two marvelous students, Tylor Tallcouch and MacKenzie Callahan," she said. "One thing I liked about Tylor was his 'I'm not taking any of this "I'm a 52-year old woman with bad knees" business,'" she said. "He was there saying, 'you could do 10 more pounds. You can do two more reps.' They both did a wonderful job putting up with my whining and griping and figuring a way to accommodate me."
"I really pushed myself and they pushed me to really challenge myself," said Keene State's director of Campus Safety, Amanda Guthorn. "I didn't want to have that experience and just feel like I'm phoning it in. If I'm going to do it, I want to make it worthwhile for me and the students."
The team-like approach fostered a friendship between students and clients, who often met another time during the week in addition to their 8 a.m. Wednesday morning designated class. "I didn't know my client at first, so I communicated with her on a professional level. As I got to know her, I established a relationship and it was easy to talk with her," said Kendra Snyder, a senior nursing major from Londonderry, NH. "I think interacting with the faculty was great. It was a unique experience because we don't usually interact with faculty on that level."
At the end of the semester, a second fitness assessment is given. The students analyze the results and go over them with their respective clients. They wrap up the class with a celebration – with, of course, healthy snacks – in the Health Science food lab in Joslin House.
While results vary with each volunteer, all the clients have given the program high marks. "It was a real good experience. It got me moving and interacting with kids again," said Draper, who previously served as coach with the Owl men's lacrosse team. "I'm in an ivory tower and I don't see many kids, so it was great to be involved with them again."
Would she encourage other faculty and staff members to take part in the class? "In a New York minute," said Ericson-West. "I think it's a wonderful program. And talking with the students, it was something they got so much out of because they started to realize the world isn't just about 18- or 19-year-olds and there are other types of people out there. And, yes, we still want to be physically active and healthy."
Noting a marked change in his fitness and diet, Halter said his experience wasn't unique. "As much as I was excited about my progress, I could see positive results happening across the board with everybody," he said. "My question at the end of the semester was, can I do it again?"
Related Stories