No Regrets: Widzgowski Leaves it all on the Track at NCAA Outdoor Championships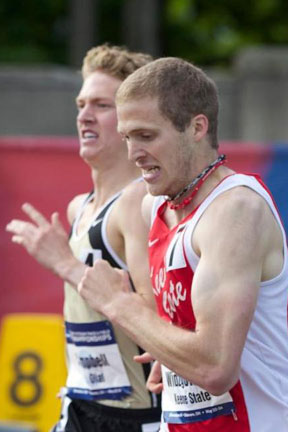 "He's going to remember this race, every step of it, his whole life," said longtime Keene State College track coach Peter Thomas. He was reflecting on senior Ryan Widzgowski's 1,500-meter race at the recently held NCAA Division III Outdoor Track and Field Championships hosted by Ohio Wesleyan University. "It was his last college race, but it was his best college race."
Listening to Thomas, one might come to the conclusion that Ryan Widzgowski had the race of his life at the NCAA Championships, triumphantly riding off into the collegiate sunset firmly grasping the 1,500-meter trophy that had he been chasing his entire college career. But that wasn't the case.
As much as he'd like to change the outcome of the race, Thomas wasn't talking about a championship, or, for that matter, an All-American award for Widzgowski, a lean, sturdy runner from Camden, Maine. Leading the talented field with 100 meters to go, Widzgowski suddenly found himself staggering, trying to keep himself upright as his body went in different directions. While his chest, pulled by the inertia, continued its forward course, his legs refused to move, a sensation Widzgowski called "hollowing and stiffening" that left him trying to wade out of quick sand.
"I had a split-second choice," said Widzgowski. "I could see how far my momentum takes me and maybe fall on my face at nationals or slow down, try to regain my balance, and see if I had a chance of somehow getting back in the race."
With arms flailing by his side, Widzgowski took the latter approach, shortening his stride in hopes of returning to some semblance of form that would get him to the finish line. But it was too late. He could do little but watch peripherally as eight runners passed him over the final 80 meters of the race. The dream of winning a national title, much less earning All-American in his final college race, had become a nightmare.
The strong, athletic legs that had carried him to four All-America honors, including a third-place finish in the same race last spring, had failed him. Unlike Miami Heat superstar LeBron James, who scored 35 points in the second game of the NBA Finals against the San Antonio Spurs after he cramped up in the opener, Widzgowski wouldn't have a second chance.
Staggering to the finish line, Widzgowski placed ninth with a time of 3:51.23. So why does Thomas call it his best race? "He finally put himself out there and executed perfectly," said Thomas about Widzgowski's swan-song college race. "If Ryan was healthy, I think he would've won. Unfortunately, things didn't go his way. I told him that I was more proud of him than when he won double All-American honors at the indoor championships as a junior."
Ironically, Widzgowski almost didn't make it to the start line at Ohio Wesleyan's George Gauthier Track, inside Selby Stadium. Still savoring his double All-American performance, finishing second in the mile (4:10.18) and sixth in the 800 (1:53.36) at the NCAA Indoor championships, Widzgowski had high expectations as he ramped up for the spring outdoor season. While he dealt with his share of nagging injuries during his career, nothing prepared for the unexpected health issues he was about to confront.
As the season progressed, Widzgowski began developing breathing issues and chest pains. "As a runner you look past that," he said. "We all have aches and pains, so I didn't say anything to anyone. I just continued doing everyday stuff and running."
It wasn't the first time Widzgowski had kept quiet about an ailment. Six years ago he was diagnosed with Wolff-Parkinson-White (WPW) syndrome, a heart condition he described as similar to arrhythmia that is found in only .3 percent of the population. Cleared to run, Widzgowski said the only time the condition came up was at the start of the season when he had to do his NCAA paperwork.
When his chest pains persisted well into the season, Widzgowski eventually told his parents, who immediately told him to go to the hospital. "It was just a strange experience being so tired for no reason," said the 21-year-old runner. "In my opinion I wasn't burnt out. I just didn't know what was going on."
The problem didn't go away. "I felt exhausted after normal runs and workouts," he said. "I was breathing heavily and my heart rate would accelerate drastically. It got to a point where I had to walk during workouts."
Two weeks before the NCAA Championships, Thomas got an unexpected text message from Widzgowski, telling him he was in the emergency room. "Peter was in shock," said Widzgowski, who wished he had told his coach about the severity of his condition earlier. "He sent me back a one-word response, 'WHAT????' before I lost service."
Thomas raced down to the emergency room to be with Widzgowski, who was given a series of tests including an EKG and echocardiogram. Although he was cleared to run again, Widzgowski had his own questions. "Do I really want to go? Am I capable of going? But I earned this, I'm still working hard," he reasoned. "My biggest thing was not giving up. It was difficult but I made the choice to go to nationals."
Getting the go-ahead to run from a cardiologist a day before leaving for Delaware, Ohio, Widzgowski faced not only health concerns, but a talented 1,500-meter field on the track.
Getting to the finals wouldn't be easy. A fast first heat required a top-four finish by Widzgowski in his qualifying race. One of five runners galloping down the stretch, he wouldn't be denied a place in the finals, placing fourth and claiming the 12th and last spot by just 0.5 seconds. "In my best shape, I never closed that hard," said Widzgowski. "I wasn't ready for my college career to end."
Despite his close call in the preliminaries, an optimistic Widzgowski re-evaluated his goal as he got set for the finals.
"I asked Ryan, 'What do you want to with this race?'" said Thomas. "He told me it was his last college race and he wanted to take a shot at winning."
In a matter of seconds the goal was no longer to win, but to finish. The ordeal and trauma in the late stages of the race left Widzgowski with barely enough energy to cross the finish line.
Following the race, a distraught Widzgowski met up with Thomas, who accompanied him to the OWU Fieldhouse where he was checked over by the medical staff. "Peter told me that I left it all out there," said Widzgowski. "I never knew what that term meant until now."
Back in Keene a few weeks following the championship, Thomas and Widzgowski reflected on the race. "At previous championships Ryan finished races knowing he could've done more. But in this race he couldn't have done any more," said Thomas. "He really learned the difference between running and racing."
"I fought my body to the limit and I ended up having a memorable race – one that I can share with other people in the future," said Widzgowski, who will meet with doctors in the upcoming days to evaluate his condition. "It took me to my last college race, but I now know what it's like to put yourself out there and really try to win. There's no regret. And now I get to share that experience and explain what it's like to give it everything you have inside you."
Related Stories