Seniors Teach Physical Education Students a Lesson about Fitness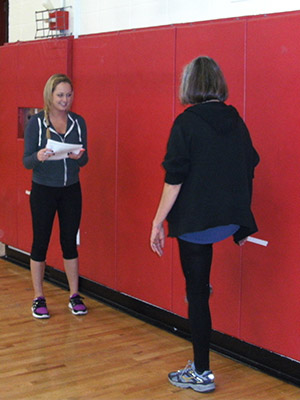 Sixteen active senior citizens turned out for a Senior Fitness Test conducted by students from the Exercise Testing and Prescription class. The seniors, all volunteers, largely from KSC's Cheshire Academy of Lifelong Learning (CALL), went through a battery of movements designed to test flexibility, muscular strength and endurance, aerobic fitness, and functional ability.
The students discovered that the seniors were far above the average senior citizen in terms of cardiovascular strength, muscular strength, fitness, and flexibility, said Assistant Physical Education Professor Melanie Adams.
"And that's sort of what you expect of participants who came from the CALL program on campus, they are very active," she said. "We find that the more active seniors are, the more physical function they are able to do." But beyond the results of the tests, Adams said this was a tremendous opportunity for KSC's Physical Education students to interact with people who are not of their same age group and who have different health histories. Adams said she hopes this event can be repeated every semester.
Related Stories