Thorne Exhibit Showcases Regional Art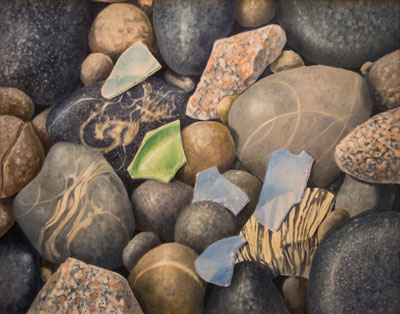 Thorne-Sagendorph Art Gallery Showcases Talents and Interests of Keene State College and Monadnock Residents. Opening Public Reception on June 5; Exhibit Opens on June 6
Keene State College's Thorne-Sagendorph Art Gallery will soon open an exciting exhibit displaying the talents and interests of people in the Monadnock Region of New Hampshire, titled Passionate Pursuits. Earlier this year, the Thorne Gallery asked area residents and College faculty, staff and alumni to submit items for the exhibit. A total of 82 works of art will be on display. Passionate Pursuits will be open June 6 through July 24, and will reopen August 25 through September 18. The public opening reception will be held at the Gallery on June 5, from 4:30 to 7 pm.
Passionate Pursuits is a non-juried exhibit of items that people have created or collected, or a visual expression of something that makes them passionate. Types of work submitted in past Passionate Pursuits exhibits include paintings, drawings, photography, sculpture, wooden objects, quilts, and collectables. This year, exhibited art includes such media, as wood turning, weaving, embroidery, fabric art, mixed media twine art, as well as sculpture, painting, drawing and weapon craft.
About Thorne-Sagendorph Art Gallery
Thorne-Sagendorph Art Gallery began its collaboration with Keene, surrounding communities and Keene State College when it opened in 1965. The Thorne's mission is to equally serve all constituencies by presenting high quality exhibits for education and appreciation. The Thorne collection has two focuses: One focus is collecting and preserving artwork by artists from the 19th century Dublin Art Colony as a heritage for the people of the Monadnock region. The second focus is collecting work of high aesthetic and educational value to enhance the teaching of Keene State College faculty, and for the enjoyment of students and all visitors to the Thorne. More information about the Thorne can be found online.
Related Stories