Three More Steps towards a Greener World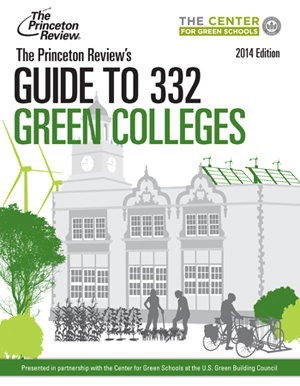 We talk a lot on campus about how KSC strives to be a good steward to the environment. But that's sure not just talk. For one, the College collected over 1.5 pounds of unwanted electronics per person from faculty, staff, and students in March as part of the RecycleMania Electronic Waste Competition. That was a truckload of stuff on just the first day—enough to place us 14th out of almost 70 schools in the competition.
Then The Princeton Review, in collaboration with the Center for Green Schools at the U.S. Green Building Council (USGBC), selected Keene State as one of 330 green colleges in the United States. KSC has been included in this list every year, since the selections began in 2010. Read all about it.
In yet another research project that gives our students real-world understanding of important environmental issues, Assistant Professor of Environmental Studies Nora Traviss led a study in which students from Environmental Studies, Chemistry, Physics, and Biology collected data to assess the physical, chemical, and biological characteristics of particulate matter generated by the combustion of diesel and biodiesel fuels in heavy-duty diesel engines.
Biodiesel, a fuel made from renewable raw material as an alternative to petroleum-based fuel, still releases particulates into the air. While diesel-related air pollution has been well-studied, little is known about the impact of biodiesel combustion on important particle characteristics such as size, shape, number and composition. This current research should increase understanding of effects of using biodiesel as a substitute to reduce particulate matter pollution. The work is funded by the National Institute of Environmental Health Sciences under what is called an Academic Research Enhancement Award, also known as an R15 grant, which supports small research projects up to three years. The project will be completed by 2015. Read the whole story.
Related Stories