Beautiful Lengths Donates Wigs to Cancer Patients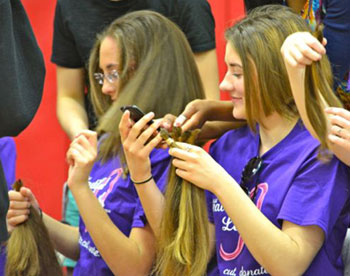 When Allie Bedell was a junior at Londonderry High School, she donated her hair in Pantene's Beautiful Lengths program The program invites people to cut at least eight inches off their hair and send it to Pantene, the hair and shampoo company, which has partnered with the American Cancer Society to provide real hair wigs to cancer patients completely free of charge. Londonderry HS holds the record for the most hair donated at one time.
Two years ago, Bedell, then a junior at KSC, organized a Beautiful Lengths event on campus to honor a family friend who was going to lose her hair as she underwent chemotherapy. She got a Pepsi grant to cover the cost and encouraged 60 women to donate their hair. When she decided to hold the event again this year, Bedell wasn't sure how she would raise the $800 it usually takes to put on the event, because Beautiful Lengths is not a student organization and doesn't receive any campus funding. The $800 covers such expenses as scissors, supplies to package the donated hair, shipping the hair to Pantene, and t-shirts for each donor.
"We launched a booster campaign and sold t-shirts online to try to raise some money and wound up incredibly lucky," Bedell said. "We sold more than 160 shirts and received checks from a few very generous donors, bringing our fundraising total to $3,190 in just four weeks. I'm so excited to know that even after I graduate in May, the event will be fully funded for at least two more years."
How did it go this year? KSC's Beautiful Lengths took place on Saturday, April 12, in the Spaulding Gym, and 116 donors gave their pony tails to the cause. If you'd like more info on this worthy event, visit their Facebook page, or check out the article in the Equinox.
Related Stories