Stuart Kaufman Honored for Outstanding Service as Sports Information Director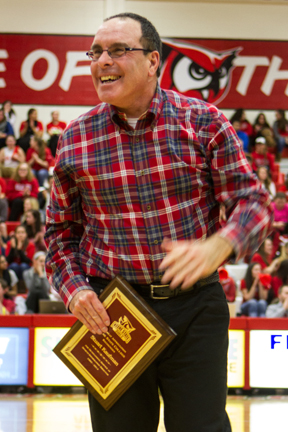 Stuart Kaufman never saw it coming. He was sitting courtside at the Spaulding Gym with his wife, Carol, at the break between the women's and men's basketball games against Plymouth State on February 28th when KSC Director of Athletics John Ratliff dropped the big surprise by calling him from the bleachers to center court. Kaufman, Keene State's award-winning Sports Information Director for over 20 years—and very definitely the voice of Owls sports—was moving on to a position as a writer/editor in the College's Marketing & Communications Office, and Ratliff wanted to give him a big "thank you" for his many years of unwavering dedication.
In fact, Kaufman didn't even plan on being at the gym that night. "Ironically, I thought I'd take some time off from the games," he explained. "I've been going to them for over 20 years, so I thought I'd step back and stay home and not have to worry about the games and the usual deadlines and all those things. But my wife Carol made it clear she wanted us to go that night, so I did."
It's a good thing that Carol Kaufman is so persuasive, because Ratliff handed her husband a handsome wooden plaque commemorating him for his "outstanding service as Sports Information Director." The crowd roared it's applause, but none were on their feet sooner than the KSC men's basketball team, because you'd be hard pressed to find an Owl athlete who isn't aware of how much Kaufman has done to promote Keene's athletic program and individual athletes. "I think the student athletes' reaction when we gave him that award said a lot," Ratliff said. "They were the first ones to jump to their feet to recognize what he had done for them." And, though Kaufman didn't realize it at the time, the row he and his wife were sitting in had been named in his honor.
"It was just a nice feeling to be appreciated for all the work I'd done over the years as the College's sports information director," Kaufman said. "People don't realize what it takes to do that job. It's not a 9–5 gig; you go into it knowing that you basically have to give up your life. The games aren't built around your schedule, they're built around the College's schedule, which means you have to be there nights and weekends. So getting that award really meant a lot to me, because sometimes you think it's a thankless job as you're doing all this work and coming in to the office on the weekends and no one else is here."
Probably no one at Keene State cranked out more stories than Stuart Kaufman. He calls himself an "equal-opportunity sports information guy" who covered the games, but also searched out the personal stories in each athlete, whether they were all-stars or reserves. "He really valued the contact with the student athletes, getting to know each one," Ratliff said. "Even if he wasn't doing a story, he still enjoyed getting to know them. There was a real personal contact, whether they were a star athlete, or whether they played two minutes a game—he held them all in high respect."
It was that personal touch that set Kaufman's stories apart. For example, he recently received a national award from the College Sport Information Directors of America (CoSIDA) for his profile on track-and-field athlete Brett Mastrangelo, who returned to Keene after trying his hand in Hollywood. His cover story on basketball-player Orlando Echevarria in the Winter 2012 issue of Keene State Today is an excellent example of the deep respect and personal interest Kaufman brings to a story. "I tell people, he's as good a writer as I've ever seen," Ratliff explained. "I just love reading his stories, because they really tell a story. He really does a nice job—that's going to be missed."
"I pride myself in doing stories about the athletes, not just about them winning, but about the athletes who overcome adversity," Kaufman said. "The athletes at Keene State, playing in Division III, aren't on scholarship—they're playing for the love of their sport. If my stories can convey that to the audience, then I thought I was doing my job."
Kaufman was also willing to go the extra mile and dig for the nuggets that bring a story to life. "After a game, if I'm doing a game story, I talk to the coaches," he said. "But I'll also talk to the players. I want to hear what they have to say, and it helps them learn how to interact with the media, so it's a learning opportunity for them. The personal part is very important to me. I think I have a good nose for the story. This year, the men's basketball team isn't doing that well, so I have to find other ways to promote the program and the athletes. I try to find those human-interest stories about the athletes and use those to get the good news out about KSC sports. I'll talk to a player's high school coach and other players; I talk to a lot of people to get a story. You never know who's going to provide that tidbit that's going to make that story shine."
That personal touch and little bit extra that Kaufman put in his stories made a big difference. Getting all those sports stories out there did affect enrollment, as they put Keene State on perspective students' radar. "The home-town feature stories that he would do and send to the weekly papers in a kid's home town were great," Ratliff said. "The publicity that he garnered dwarfs any other efforts in the last 30 years. He was out beating the bushes, and he had a working relationship with the editors and sports editors at a lot of these papers. He could call someone at the Globe and say, 'I've got a great story for you.' His ability to champion a story to various media outlets—print and broadcast—and have them take it and run with it is one of his biggest attributes."
Yes, Stuart Kaufman has certainly made his mark on Keene State athletics, and he'll continue to get the good word out through his new role in the Marketing & Communications office. "It's a chance for me to expand my writing," he said. "All the years that I was doing sports information, I knew that there were so many great non-sports stories out there of students who are accomplishing remarkable things, so now I have the opportunity to delve into those stories and get them out there."
Related Stories