KSC Chamber Singers Present Outreach Tour to SW NH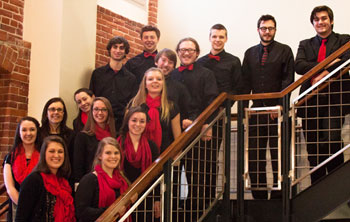 As part of the Spring 2014 semester, members of the KSC Chamber Singers embarked on their 3rd annual spring tour. In February, the tour included eight performances during a two-day tour of high schools and retirement communities in southwestern New Hampshire. The singers began in Peterborough with a visit to ConVal High School and the Summerhill Retirement Community, and then gave an impromptu performance at a luncheon at 12 Pine Restaurant & Gourmet Marketplace. That afternoon, the singers traveled to Milford High School to perform and participate in the Tri-City Choral Festival with a choir comprised of high school singers from Milford, Hollis, and Brookline (New Hampshire).
On the second day, the tour included collaborations with Hillsboro-Deering High School's choir and New Hampshire's 2012 Teacher of the Year Heidi Welch '96, followed by a choral exchange at Stevens High School in Claremont. The singers then headed south for a quick coffee break at Burdick's in Walpole and then back to Keene for performances at Cedarcrest School and Bentley Commons.
The Chamber Singers performed a cappella selections by Bruckner, Mendelssohn, and Clements. In addition, the ensemble split into two choirs to present two spiritual arrangements led by student conductors Kirk Bobkowski (BM Music Performance & BM Music Education, 2014) and Kaitlin Hart (BM Music Education, 2015). These visits also included performances by the host high school choirs, choral clinics with Assistant Professor of Music Sandra Howard (conductor of the Chamber Singers), shared rehearsals, and discussions among high school and college students about college life and opportunities to continue making music beyond the high school years.
"We all love the chamber singers tour!" said Kaitlin Hart. "I think It is really important to go around to schools and show the students where music can take them if they stick with it, even if they just continue participating in music as a hobby and not a career. A lot of schools don't get the opportunity to see performances by college groups, and if they do get to see them, they rarely get to talk to the group and ask questions afterwards. While singing on tour I can see on the kid's faces that they are really excited to be able to see this type of performance. I really love looking out and watching students' reactions to us—its almost like they didn't know choirs could sound like we do, and I can tell a lot of them want to try to sound like that too."
"On this tour we stopped at a few nursing homes which was different but really cool," Kaitlin continued. "The residents appreciated us in a different way, sort of nostalgic and appreciative rather than amazed like the high schoolers sometimes are. It was really nice to be able to give back to those people and brighten their days."
Members of the Chamber Singers are declared as music majors and minors with focus areas in vocal performance, music education, and composition. They are supported by the ensemble's collaborative pianist, Lecturer Cheryl Sharrock, and funded by the Department of Music and generous grants from the School of Arts & Humanities Performing Arts Student Travel Fund and the Field Experience Engagement Fund. The ensemble is open for audition to any KSC student during the first week of fall semesters. Additional projects this semester include a choral exchange with the Jaffrey-Rindge Middle School Chorus on March 13th, a performance to celebrate President Anne Huot's inauguration as Keene State's 10th president on April 4th, and a collaborative concert including KSC Concert Choir and community-based ensemble The Keene Chorale in the Redfern Arts Center Main Theatre on April 6th at 4 p.m.
Related Stories