Apple Hill String Quartet performs at Redfern Arts Center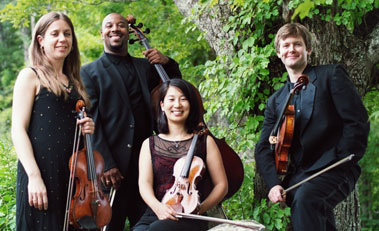 Apple Hill String Quartet performs classical music and new work by Christine Southworth
Apple Hill String Quartet will perform classical works by Mozart and Vaughan Williams and new music by Boston composer Christine Southworth on Wednesday, April 3, at 7:30 p.m. at the Redfern Arts Center at Keene State College. This New Hampshire string quartet will premiere Southworth's The Music Room, commissioned for Apple Hill by the Redfern Arts Center, and will also play her work Honey Flyers, based on the musicality inherent in bee activity. Tickets are $20 for the general public; $15 for senior citizens, children, KSC alumni, faculty and staff; and $5 for KSC students. For tickets, call the Redfern Box Office at 603-358-2168 or order online at www.keene.edu/racbp.
There are two outreach activities planned for the day of the performance, Wednesday, April 3, which are free and open to the public. Apple Hill String Quartet will present a master class with an interactive component for string and wind players at 2 p.m. in the Alumni Recital Hall. The quartet will perform at the beginning of the class and will then talk about Apple Hill Center for Chamber Music based in Nelson, N.H. Apple Hill Director Lenny Matczynski and composer Christine Southworth will offer a pre-show talk "Listen Up" at 6:45 p.m. in the Harry Davis Room off the Redfern lobby. The "Listen Up" talk will be a general introduction to the evening's program.
Christine Southworth will lead a clinic with Music Professor Heather Gilligan's Composition class on Wednesday, March 27, from noon to 2 p.m.
The Apple Hill String Quartet is comprised of Elise Kuder and Sarah Kim, violins, Michael Kelley, viola, and Rupert Thompson, violoncello. The quartet has earned accolades from around the world for their interpretive mastery of traditional classical repertoire along with seldom heard masterworks and contemporary music. They have performed concerts throughout the United States, Europe, the Middle East, and Asia as part of Apple Hill's innovative Playing for Peace program.
Education is an integral part of the quartet's mission and they have conducted mini-residencies in embassies, communities, schools and universities locally in the Monadnock region, nationally in the major U.S. cities, and throughout the world. They also spend countless hours as teacher-performers at Apple Hill's renowned Summer Chamber Music Workshop, held annually on the 100-acre Apple Hill campus.
As 21st-century musicians, the quartet is deeply committed to the commissioning of new works and will add Southworth's The Music Room, to the list of new works they have premiered by Turkish composer Ekrem Zeki Ün, Armenian composers Alan Hovhaness and A. Zohrabian, Syrian composer Kareem Roustom, and American composers Daniel Sedgwick, Roger Sessions, John Harbison, Tom Oboe Lee, Larry Siegel, and Charles Ives.
Southworth, a lecturer at MIT's Music Program and co-founder and director of Ensemble Robot, a collaborative of artists and engineers that design and build musical robots, is making groundbreaking music based on the interaction between technology and creativity through her work with robots and automated music systems. Her 2005 and 2007 performances of Zap! overfilled the Boston Museum of Science's Theater of Electricity with students, professors, artists, children, and adults. As a performer, Southworth plays with, as well as manages, the acclaimed Gamelan Galak Tika and has composed several pieces for the group and performed at venues including Lincoln Center, Carnegie Hall, EMPAC, the Cleveland Museum of Art, several Bang on a Can Marathons, and the Bali International Arts Festival. She also plays Highland Bagpipes, which she performs with robots and musicians from Ensemble Robot. Southworth's compositions have been performed throughout the U.S., Europe, and Indonesia by varied musical ensembles. Southworth recently released her debut recording Zap! which features several members of the Bang on a Can All-Stars.
This performance is funded in part by a grant from the MetLife Creative Connections program of Meet the Composer, Inc. and the New England States Touring Program of the New England Foundation for the Arts, made possible with funding from the National Endowment for the Arts and the six New England state arts agencies.
About Redfern Arts Center at Keene State College
The Arts Center is named in honor of Dr. Leo F. Redfern, Keene State College President from 1969 to 1979 for his vision, commitment, and eloquence on behalf of the arts that made funding and construction of the facility a reality. In 1981, KSC inaugurated this new performing arts center, with the goal of providing unforgettable artistic encounters for the campus and community. Since then, the Redfern stage has hosted hundreds of amazing shows, from internationally renowned artists to emerging young talents to KSC's own student performers. Over the years, the Redfern has expanded its outreach programs, curricular and community partnerships, becoming an indispensable resource for the Keene community and beyond.