Theatre & Dance Department Shines at American College Festival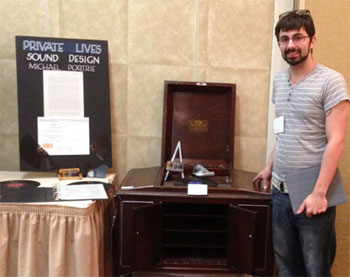 KSC Theatre and Dance faculty and students carried home an impressive collection of awards and honors from Region I's Kennedy Center American College Theater Festival held at the Conference Center at Hyannis, Mass., from January 29–Feburary 2.
The Production team from Dracula, including Director Dan Patterson, Costume Designer Mary Robarge, Scenic Designer Tiffany Dalian, Lighting Designer and Special Effects and Projections Jeremy Robarge (assisted by Michael Portrie), and Technical Director Craig Lindsay, won the Merit Award for Excellence in Technical Production. Will Adams garnered a National Award for Excellence in Sound Design Honorable Mention for his work on the play.
Gary Beisaw, Jr., earned a Merit Award for Excellence as Fight Captain and Ben Montmagny received a National Award for Excellence in Sound Design Honorable Mention for their work in Rashomon directed by Lecturer PeggyRae Johnson.
Michael Portrie earned a National Award for Excellence in Sound Design Honorable Mention for his work on Private Lives directed by Assistant Professor Ronald Spangler. His work on that play also won him a Stagecraft Institute of Las Vegas Award for Excellence in Design-Technology, Meyer Sound Award for Sound, which includes a scholarship for a one-week intensive training program in sound in Las Vegas.
Elizabeth Streeter won a Regional Award for Excellence in Costume Design First Place for her art noveau designs for A Midsummer Night's Dream in Assistant Dean/Professor Elisabeth Roos' Costume Design class.
Katherine Wadleigh and partner Jon Adams were two of the 16 finalists among more than 250 participants for the Irene Ryan Acting Scholarship. At each stage of the competition, candidates are given feedback by professional artist and are expected to incorporate the changes as they move forward.
Theatre and Dance Professor Dan Patterson was given by KCACTF Region I plaque honoring his work as the Critics Chair for the last 15 years.
Seventeen KSC students presented their work in the areas of acting, design, stage management, and theatre critics: Jon Adams, Sheamus Ahearn, Daniel Bullard, Will Adams, Taylor Ewing, Cara Gerardi, Aaron Howland, Taylor Jorgensen, Kristen Licht, Matthew McDougal, Ben Montmagny, Michael Portrie, Arienne Stearns, Kristine Sullivan, Elizabeth Streeter, Lukas Theodossiou, and Katherine Wadleigh. Students participated in workshops, attended performances, performed in stage reading of new plays, interned in the technology program, and stage managed productions and festival events.
"The Kennedy Center American College Festival Region I represent the best of what New England has to offer, and our students have distinguished themselves amongst this elite crowd," Professor Céline Perron said.
Related Stories