College Endowment Fund Increases Student Aid and Keeps Costs Down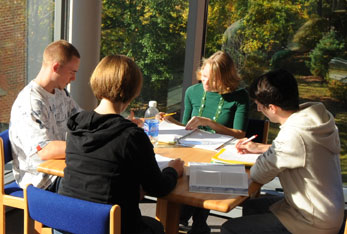 Keene State College Students Receive $100,000 in Additional Scholarship Aid Over Last Two Years
Endowment Fund Assists More than 90 Students and Keeps Costs Down
Keene State College announces today that a portion of its endowment fund, managed by the Keene Endowment Association (KEA), has provided $100,000 in additional scholarship aid over the last two years. The KEA fund has gained significant earnings through investments, and a number of new gifts have been made. The increase in earnings and gifts made it possible to offer the additional scholarship aid. In fiscal year 2012, the KEA fund provided scholarships to 93 students. Gifts have also been made to academic programs and for maintaining the campus. Gifts to the endowment come from individuals, such as alumni, former employees and community members, to make a difference in the lives of students.
"We are thrilled to be able to offer more financial aid to students who need it. The success of this fund is in keeping with Keene State's commitment to making a college education as accessible as possible and ultimately helping the state grow and thrive. It is critical that we educate future generations for the wellbeing of the future of New Hampshire," said Ceil Goff, board chair of Keene Endowment Association.
Scholarships through the KEA fund have helped to offset some potential increases in cost of attendance, as state aid decreased and Keene State aid increased. Due to the reduction in state aid, more than $10 million of Keene State's budget is now dedicated to providing financial assistance to students.
The Keene Endowment Association was founded in 1957 as an independent charitable entity to provide assistance to deserving students at Keene State College. The KEA operates as a trust, separate from Keene State College and the University System of New Hampshire. The fund principal is invested in perpetuity by the Trustees of the KEA, and income is used in accordance with donor wishes. The KEA provides more than $220,000 in funds annually to Keene State College, which adds significantly to the funds provided by the college's other endowed funds, managed through the USNH.
More on the types of scholarships offered is available online.