Learning for a Lifetime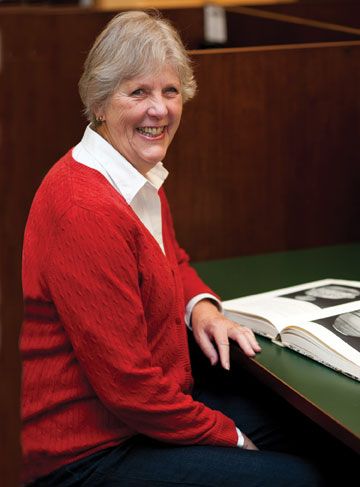 by Steven Kessler and Heather Jasmin
As rapidly as we have witnessed stadium-sized computers being shrunk into the palm of our hands, we have seen the limits of aging change. Around the globe, life expectancy is rising, as is the expectation that the upper limits of a lifespan can be filled with excitement, curiosity, and learning. Today, science proves what society has come to notice: Learning ability remains relatively constant well into a person's seventh decade, and the experience and reflection brought to learning later in life can support reasoning, judgment, and analysis superior to what was possible in youth.
Keene State's Cheshire Academy for Lifelong Learning (CALL) offers further proof of learning beyond perceived limitations. As one of the college's fastest-growing programs, CALL attracts hundreds of mostly older and retired students to a range of liberal arts courses. We talked with three women who, like many CALL members, have seen classes open entirely new horizons and enrich their lives.
When we asked Sandra Whipple '57 how she got started on the path of learning later in life, she said, "I don't think I ever got off the path. I started school at age five and went to school for 50 years – first as a student, then as a teacher, and later as a principal."
And those first 50 years were only the beginning. Sandra tried retiring at 55, but when her husband was diagnosed with a severe brain tumor, she needed to go back to work again. When she did, she found comfort and satisfaction in a new kind of teaching and learning – she became an ordained Unitarian minister. "I view my ministry as a continuation of working with people and human values and understandings," she explained.
Seven years later, her husband's worsening condition made it necessary for her to retire again, and for the next 17 years Sandra's path of lifelong learning took another turn, this time in her role as full-time caregiver.
Yet even in that unexpected role, Sandra found more opportunities for teaching and learning. "Through it all," she says, "I have a deeper understanding of some of the challenges life brings. I've found that learning isn't just limited to institutions and their buildings – it's an attitude. The opportunities are all around us, always."
While caring for her husband until he died and then caring for her mother, Sandra was invited to be a guest minister at more than two dozen congregations in the area. For the past two years, she's been producing an hour-long weekly television program for Cheshire TV, the community TV network, interviewing people of more than 30 different religious perspectives. She focuses on helping people understand the rights and responsibilities of living in a country that holds religious freedom as one of its most precious founding tenets.
And she's a CALL student. "I love being a student again," she says. "I took a CALL class last spring entitled 'Religion and the Constitution,' which was both informative and thought-provoking. When I was working in the public sector, it wasn't appropriate to discuss religious questions in quite the same way I can at this stage of my life."
Sandra summed up the latest leg of her journey this way: "It isn't age itself that matters, but experience often brings additional wisdom and insight. Through it all, I've come to realize how complex the world is and how we have a responsibility to protect the minority as we listen to the wishes of the majority. It's like trying to juggle 16 balls in the air – they're all important as a whole, but consideration of each individual in that whole has to be a priority."
As surely as we all need the sun to rise in the morning, Linda Piekarski needs to keep learning. "It's part of my lifestyle. I can't imagine not learning new things," she says. Her career in the business world demanded constant learning and adapting to change.
Retirement brought a lull that proved to Piekarski how much she depended upon constant learning. "After retiring," she said, "I needed to find as many ways to keep my brain active as possible. The CALL program has such a variety of offerings that I can always explore in a new direction every semester."
In addition to serving as a local resource, the CALL program has the additional benefit of being social, and Piekarski likes that aspect. She loves having somewhere she can go to meet, talk, and learn with like-minded people, and through the CALL program she's put down deep roots in the Keene State community.
Like Sandra, Linda feels that age itself doesn't really have much to do with being a lifelong learner. Learning makes her who she is. "I don't think of myself as part of any age group. If anything, I still feel very youthful. I consume books at a prodigious rate, use the Teaching Company courses, attend local lectures, and follow current events any way I can. I have to know things."
Linda's learning has also taken some unexpected turns. She's surprised at what she's learned about herself. "I've discovered that I can be much more comfortable with my shyness," she says. "I don't have to force myself to lead the parade as was necessary in the business world. I can sit back and absorb the information for pleasure and not have any pressure to perform. In short, I can enjoy life." At the same time, though, she says the biggest surprise "is that I still want to do – that the passive role does not suit me at all."
Judy Perry has also sunk deep roots at Keene State College. In 1966 Perry graduated from Syracuse University and came to Keene State in pursuit of teacher certification. She remembers the application process as being a little different than it is today. "I had been interviewed earlier by Dr. Roman Zorn, the president of the college, to see if I was qualified."
Twenty years after completing her certification, Perry returned to Keene State to earn a master's degree in education. She settled in as a full-time graduate student and part-time graduate assistant in the office of Adult Learner Services in Elliot Hall – the same building where her husband and her two children had been born, back when the building was part of Elliot Hospital. After graduating, she stayed on at Keene State, and in Elliot Hall, for almost 20 more years, retiring in 2004 as director of Academic and Career Advising and Coordinator of Adult Learner Services.
Perry spent much of her career coaxing and convincing nervous adults to take the plunge back into the classroom. Most of the time she was successful, as were the students she counseled, despite their fears. Perry knew she couldn't stay out of the learning loop herself. "When I was registering students," she recalls, "I'd look at the class schedules and think, 'I'd like to take that class; it sounds so interesting!'"
The CALL program gave her a chance to do just that. "Finally, I had to follow my own advice," she explains, "and I found the CALL program was a perfect place to indulge my fantasy."
Like Whipple and Piekarski, Perry has found some unexpected pleasures and surprises in being a lifelong learner. The quality of instructors and diversity of CALL participants draw her praise, but she also delights in the sessions' camaraderie. "Adult students are not shy about sharing or asking questions," she says. "I've taken classes with my retired doctor, college professors, my tennis partner, and friends from the past. My husband and I have sat next to one another in several classes, something we never had a chance to do when we were courting as undergraduates. The class discussions continue at the dinner table."
Without seeing limits in aging, these women and many male counterparts have found a way to expand their lives. As such, they may also extend their lives and strengthen the fabric of their families, friendships, and community.
Steven Kessler is assistant director and Heather Jasmin is a program coordinator in the Division of Continuing Education and Extended Studies.
Related Stories