Give the Gift of the Arts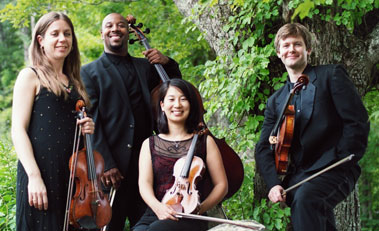 Tickets to performances at the Redfern Arts Center at Keene State College make great holiday gifts that can be enjoyed in the New Year. The Redfern has a diverse roster of performing artists who will bring spectacular music, theater, dance and film events to the greater Keene community during winter and spring 2013. Ranging from the well-loved Apple Hill String Quartet with composer Christine Southworth to a silent futuristic film accompanied by Alloy Orchestra the spring season promises to be enriching and entertaining. This performance roster includes hip-hop artist Baba Brinkman's take on evolution, Alaskan-born dancer Emily Johnson's new work that explores cultural identity, and Chicago's Griffin Theatre's hit production Letters Home.
"The winter/spring season will continue to create connections between the campus, the Keene community and the talented artists we bring to our stages," said Redfern Director Shannon Mayers. "This sense of collaboration is heightened by meaningful partnerships with Keene State departments and cultural and business organizations in the Monadnock Region."
Each performance will be enhanced by compelling outreach activities including master classes, workshops, exhibits, preshow Meet and Greet receptions, and post-show talk backs. All outreach activities will be free and open to the public.
Gift tickets for performances are now on sale at the Redfern Box Office, and can be purchased by phone (603-358-2168) or online (www.keene.edu/racbp). We will be happy to mail the tickets to you or the gift recipient in time for holiday giving.
The Redfern's winter/spring 2013 season comprises five performances, including:
The Complete Metropolis with Alloy Orchestra (Wednesday, January 30, 7:30 p.m.) Working with a clamorous assemblage of percussion instruments, this three man musical ensemble performs its original live score to the newly restored version of Fritz Lang's 1926 silent film masterpiece The Complete Metropolis, considered the first science fiction classic. Film critic Roger Ebert hails Alloy as "the best in the world at accompanying silent films." This performance is a collaboration with the Keene State College Film Society and the Film Studies Department.
The Rap Guide to Evolution by Baba Brinkman (Tuesday, February 5, 7:30 p.m. and a 9:30 a.m. school performance) A multimedia hip-hop exploration of modern revolutionary biology which provides a grand tour of Darwin's contributions to human knowledge and his impact on today's world. The Rap Guide to Evolution is provocative, hilarious, intelligent and scientifically accurate with Brinkman performing his clever reworking of popular rap singles and his own originals to illustrate natural selection, evolutionary psychology and much more. "Both brainy and entertaining! … genuine passion, curiosity and analytical skills," says The New York Times.
Emily Johnson/Catalyst Dance performs Niicugni (Listen) (Wednesday, February 13, 7:30 p.m.) Niicugni, Yup'ik for "Listen," is a new dance performance by Alaskan-born Emily Johnson housed within a sound/light installation of hand-made fish lanterns. Making things from fish skin is a Yup'ik art form. This dance, the second in a trilogy of pieces related to Johnson's heritage, explores issues around displacement of native peoples and the ways in which cultures are divided and linked. Dance Magazine calls her work "simultaneously vulnerable and commanding, mythical and wry." This performance is co-presented with the Vermont Performance Lab and is funded in part by the New England Foundation for the Arts.
Griffin Theatre in Letters Home (Wednesday, March 20, 7:30 p.m. and school performance, Thursday, March 21, 9:30 a.m.) This hit production puts the wars in Iraq and Afghanistan front and center by bringing to life actual letters written by troops serving in the Middle East. The production is inspired by The New York Times Op-Ed article, "The Things They Wrote" and the subsequent HBO documentary, Last Letters Home. The play without politicizing gives audiences a powerful portrait of the soldier experience in these wars. The Chicago Tribune says Griffin Theatre is "remarkable enough for your mouth to keep dropping open in surprise at the depth and raw frankness of their work." Both performances, sponsored by C&S Wholesale Grocers, are co-presented with the Colonial Theatre in Keene.
Apple Hill String Quartet performs with Christine Southworth (Wednesday, April 3, 2013, 7:30 p.m.) This well-known New Hampshire string quartet returns to the Redfern with a new program by Boston composer (and avid beekeeper) Christine Southworth including her bee-inspired work Honey Flyers. The Apple Hill String Quartet has earned accolades from around the world for their interpretive mastery of traditional classical repertoire. Apple Hills' "music was exciting, engaging, and beautifully performed …," according to The Monadnock Ledger. As 21st-century musicians, the quartet is deeply committed to the commissioning of new works, and partnered with Southworth, who is making groundbreaking music based on the interaction between science, technology, and creativity. The Boston Herald praises Southworth's music "as gently balladic (as it is) hard-driving and otherworldly. This performance is funded in part by the New England Foundation for the Arts.
More information about the Redfern's season, including outreach opportunities and other special events, can be found at www.keene.edu/racbp, where visitors can also subscribe to updates from the Redfern's e-newsletter and Facebook page.
About Redfern Arts Center on Brickyard Pond
The Arts Center is named in honor of Dr. Leo F. Redfern, Keene State College (KSC) President from 1969 to 1979 for his vision, commitment, and eloquence on behalf of the arts that made funding and construction of the facility a reality. In 1981, KSC inaugurated this new performing arts center, with the goal of providing unforgettable artistic encounters for the campus and community. Since then, the Redfern stage has hosted hundreds of amazing shows, from internationally renowned artists to emerging young talents to KSC's own student performers. Over the years, the Redfern has expanded its outreach programs and community partnerships, becoming an indispensible resource for the Keene community and beyond.
Related Stories