Keene State Theatre and Dance Department Presents Vampire Classic 'Dracula'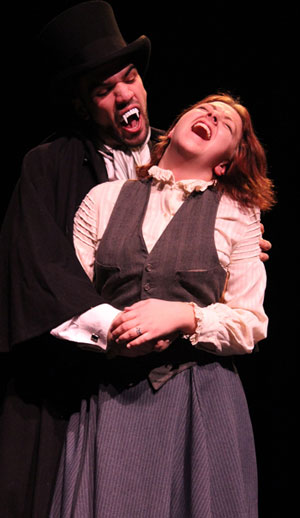 Keene State Theatre and Dance will present Dracula, a new stage adaptation of Bram Stoker's classic vampire novel, Wednesday to Saturday, November 14 to 17, at 7:30 p.m. in the Main Theatre of the Redfern Arts Center at Keene State College. Tickets are $10 for adults, $8 for senior citizens and youth, and $6 for Keene State students. For tickets, call the Box Office at 603-358-2168 or visit www.keene.edu/racbp.
KSC Theatre Professor Daniel Patterson will direct the play that captures the heart-pounding suspense and seduction of the introduced the vampire Count Dracula to the public. Patterson chose this 1996 stage adaptation by Steven Dietz, because it most closely follows the novel's mysterious storyline without being overly melodramatic.
"I thought for years that the various play versions didn't do justice to the novel. They were dull and static, or very over-the-top melodramatic," Patterson said. This adaptation makes the novel come to life because it follows the novel's story line of Dracula moving from his home in Transylvania to London for a better feeding ground because he is starting to age without fresh human blood. There his taste for human flesh brings Prof. Van Helsing to the scene to unravel the mystery and save people from a fate worse than death.
Dracula is more than a horror story; it is also a tragic love story, about an immortal man yearning for love after living 400 years without his beloved wife. Throughout these years, he has tried to find love by feeding on women, but they simply turn into loveless vampire vixens. Finally, when he arrives in London he falls in love with his attorney's fiancée.
"He believes this woman loves him and at the end she betrays him," Patterson explains. "That is why Van Helsing and the others are able to so easily kill the powerful Dracula; he simply gives up because he's lost all hope of love."
The horror and mystery of the Dracula legend will be enhanced by the Steampunk costumes and stage set and will include plenty of special effects such as video projection, eerie and explosive sound tracks, and fog effects.
The mostly student cast is led by community member Peter Eisenstadter of Winchester, N.H., who plays Van Helsing. Dan Kuhn of Keene, N.H. is Dracula. Taylor Ewing of Hudson, N.H. plays Mina and Daniel Bullard of Bangor, Maine, is her fiancé Jonathan Harker. Other cast members are Sheamus Ahern of Raymond, N.H. Jon DeBenedict of Franklin, Mass., John Derba of Hampton, N.H., Cara Gerardi of Dennis, Mass., Taylor Jorgensen of Wilton, N.H., Meg Lacey of Holliston, Mass., Danielle Rios of Alstead, N.H., Arienne Stearns of Milford, N.H., Hannah Sundell of Lebanon, N.H. Ben Montmagny of Lebanon, N.H. is the stage manager. Bailey Ramsdell of Gilford, N.H. and Jillian Strazzere of Wilmington, Mass. are assistant stage managers.
About Keene State Theatre and Dance Department
The Department of Theatre and Dance is dedicated to providing a comprehensive course of study that balances theory and practice within a sound liberal arts education. The collaborative nature of theatre and dance disciplines fosters an atmosphere in which students work closely with peers and faculty to gain practical experience in all facets or production and critical engagement. As artists and teachers, our primary focus is to encourage and guide our students as they find their creative voices and experience and question the world through the arts. For more information about the Theatre and Dance Department, visit http://academics.keene.edu/tad or call 603-358-2162.
Related Stories