Candice Salyers Performs Solo Dances at Redfern Arts Center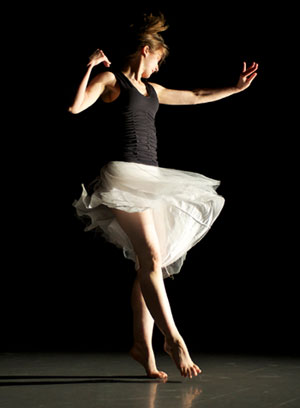 Keene State College dance faculty member and former Vermont Performance Lab residency artist Candice Salyers will perform an evening of solo works on Monday, November 5, at 7:30 p.m. at the Redfern Arts Center at KSC. This dance performance is a work in progress, called a history of levitation, and will feature four to five original pieces created for Salyers by several choreographers. She will discuss the process of creating the works after the performance, which is a collaboration between the Redfern Arts Center and Keene State's Theatre and Dance Department.
With the project a history of levitation, choreographer and performer Salyers is creating and commissioning a total of 100 solos that explore different physical and conceptual perspectives on female sainthood. By learning and performing this number and range of solos, her body becomes a living archive for physical research into spiritual experience. Taking inspiration from historical figures, popular culture, and their own lives, Salyers and her collaborators investigate what it means to purify the soul and elevate the consciousness through the body's actions.
Salyers has enjoyed performing with a variety of choreographers, including Li Chiao-Ping and Victoria Marks. Her solo performance work has been shown in the U.S., the U.K., and Estonia and has been supported by Vermont Performance Lab, Bates Dance Festival, Wesleyan Center for the Arts, and New England Foundation for the Arts. She is currently a Ph.D. candidate exploring intersections of dance performance and environmental philosophy and is also pursuing a Master's of Divinity degree. Recent publications include contributions to Tanz, Bewegung, und Spiritualität, and The Journal of the Constructed Environment.
All tickets are $5 to Salyers' performance. For tickets, call the Redfern Box Office at 603-358-2168 or order online at www.keene.edu/racbp.
About Redfern Arts Center on Brickyard Pond
The Arts Center is named in honor of Dr. Leo F. Redfern, Keene State College President from 1969 to 1979 for his vision, commitment, and eloquence on behalf of the arts that made funding and construction of the facility a reality. In 1981, KSC inaugurated this new performing arts center, with the goal of providing unforgettable artistic encounters for the campus and community. Since then, the Redfern stage has hosted hundreds of amazing shows, from internationally renowned artists to emerging young talents to KSC's own student performers. Over the years, the Redfern has expanded its outreach programs and community partnerships, becoming an indispensible resource for the Keene community and beyond.
Related Stories