Music Department Gets Concert Marimba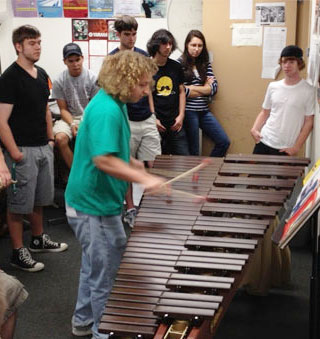 KSC's Music Department has a new 5-octave concert marimba in its percussion studio. "It is a beautiful (and expensive!) instrument that we have been working many years trying to get for our majors," said Music Professor Maura Glennon. "Right now, we have 15 percussion majors, who are thrilled to the gills about this great opportunity."
What's so cool about a concert marimba? "A concert marimba is unusual among classical instruments in that much of its development and repertoire took place from 1970 to today," explained Music Lecturer Christoper Swist. Most marimbas in the '70s had a four-octave range. In the decades since, more notes were gradually added to the bottom end of the instrument, resulting in the current five-octave configuration.
"It doesn't sound like a lot of extra notes, but they have become critical in marimba repertoire" Swist said. "The instrument becomes much more dynamic and expressive and fills much more of a sonic space." But that improvement comes at a price: The bars that produce those notes must be made of carefully selected and aged Honduran Rosewood, which is then tuned by a master instrument maker.
"As a result of our recent NASM (National Association of Schools of Music) accreditation, we received a new line of funding specifically set aside for instrument replacement and repair," noted Dr. Glennon. "We have [former Provost] Mel Netzhammer and [Interim President] Jay Kahn to thank for this."
The percussion students were very excited to see the new instrument. The first student to test drive it was sophomore music performance major Aaron Taub, who played Miniature No 4 by Matthais Schmitt (written in 1998 for five-octave marimba). Taub had played the piece in a music workshop last semester, but he had to transpose or leave out several notes because the marimba he was playing then didn't have the bottom octave.
Want to hear the new marimba in action? Christopher Swist will be playing two marimba solos at the Faculty Recital on October 10.
Related Stories