Younger Students, but still Big Learning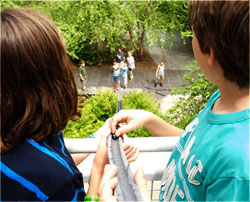 If you walk across campus on a sunny summer day, you might notice a difference in the students: They're a lot younger. For the past several summers, KSC has opened its facilities and resources to grade-school and high-school kids who want to learn new academic, life, and sports skills, or to improve the ones they've already been working on.
KSC has a lot to offer kids. For one, there's the Kids on Campus program, an educational day camp for children entering grades 1-8. "Our goal is to combine fun with learning, and get children comfortable with the college environment," said Heather Jasmin, program coordinator for the Office of Continuing Education and Extended Studies. "Each class has no more than 14 children and is hands-on. Each is designed to give children the time for experimentation and exploration of topics that interest them."
Now in its seventh year, Kids on Campus runs for four weeks every summer. And though the classes are kept small so that each child gets good individual attention, a typical summer sees 175-200 attendees. And what do the kids learn? The program offers a wide range of choices. "Our kids cook, build machines, solar cars, and roller coasters, create medicine pouches and poetry, and reinforce math and English skills with games and art projects," for example, as Jasmin explained.
There's also a wealth of very popular sports camps, a mixture of day camps and overnight camps that attracted a total of 2,067 young people to campus this summer, according to Associate Director of Athletics Rob Colbert. Offerings include basketball, soccer, cross country, lacrosse, and field hockey. Most sessions last for a week, some are set up as day camps and others as overnight programs, where kids live in the dorms and eat in the dining hall for a real "college kid" experience.
Camp Vision aims to boost self esteem for children with learning disabilities (LD) and/or attention deficit disorder (ADD) by having them work with college- age mentors who are also learning disabled. Alums Marcus Soutra '06 and Amber Bergeron '07 brought this remarkable program to campus in 2007 and have been helping discouraged kids realize that they can succeed ever since.
Kim Schmidl-Gagne, KSC's program coordinator for Diversity & Multiculturalism, has been sending her children to Kids on Campus for several summers and probably sums up most parent's experience of most of the summer programs: "My kids have been involved for at least four years, and they have taken a wide variety of classes over time. They love being on campus and learning in a relaxed and hands-on atmosphere. They enjoy getting to immerse themselves in a topic or learn what probably won't ever be covered in their school curriculum. This year's favorite classes thus far have been Junior Chef, and Rapid Revolutions. The teachers and student assistants are all wonderful, knowledgeable, and caring. From my perspective, the quality and ease of the program make it one of my top choices for summer experiences."
Associate Professor of Environmental Studies Nora Traviss has been sending her son Jake to Kids on Campus for three years. "He loves it. He thinks it is 'awesome' and 'makes learning fun.' He loved the roller coaster class this year, where each kid designed their own roller coaster using foam tubes, duct tape, stick scaffolding, and marbles. I love that he came home excited to talk about acceleration and inertia-it really sparked his interest in science and engineering! (More than his mom being a scientist does.)"