Two Chemistry Students Have the Right Elements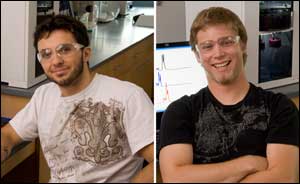 Two KSC chemistry students, Andrew Abeleira and Jacob Meier, have just the right elements for success. Their intelligence, dedication, curiosity, and commitment to their discipline are opening the doors to wonderful opportunities. Back in the fall of '09, Andrew and Jacob were in Assistant Professor James Kraly's Quantitative Analysis course.
"Both students learned the fundamentals of analytical chemistry quickly and were engaged with the hands-on laboratory work," Dr. Kraly recalled. "As a result, they both began an independent study under my supervision during the spring 2010 semester. The project introduced Andy and Jacob to instrumentation for chemical separations, and they quickly applied their skills from their chemistry coursework to calibrate the instruments and implement analytical methods."
During the spring and summer of 2010, Andrew and Jacob worked with Dr. Kraly performing analytical chemistry research. The pair developed a student proposal titled "Lichen as a biomonitor for air pollution: quantitative analysis of polycyclic aromatic hydrocarbons using capillary electrophoresis separation" and earned a $1500 research grant from KSC's Undergraduate Creative Research Project Grant committee. The students used these funds to conduct summer research as part of the Chemistry Department's inaugural Summer Undergraduate Research Fellowship program (SURF). As a result of their summer research, Andrew and Jacob gave poster presentations at the Council of Public Liberal Arts Colleges (COPLAC) regional conference in October of 2010. Andrew and Jacob will also co-present a poster with Dr. Kraly titled "Environmental Monitoring of Polycyclic Aromatic Hydrocarbons in Lichen Using Capillary Electrophoresis and Gas Chromatography-Mass Spectrometry" in March at the 2011 Pittsburgh Conference on Analytical Chemistry and Applied Spectroscopy (PITTCON) in Atlanta, GA.
And (of course!) Andrew and Jacob will each present a poster of their work at KSCs Academic Excellence Conference http://www.keene.edu/academics/aec/ on April 2, 2011. They currently hold student assistantships under Dr. Kraly on an IDeA Network of Biological Research Excellence (INBRE) pilot program, which funds student research hours, travel to conferences, and chemical supplies.
Related Stories