A Perfect Fit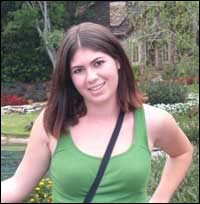 KSC junior Kelsey Mogell transferred to Keene from the University of Central Florida in Orlando to follow her passion and major in the new Holocaust and Genocide Studies program. "I've always had a passion for learning about the Holocaust and educating others, so when I was looking for somewhere to transfer, … I found the HGS program at Keene and knew it would be perfect."
She's been in her major less than a semester, but it's already created impressive opportunities. Kelsey recently learned that she had earned a prestigious summer internship at the Auschwitz Institute for Peace and Reconciliation, an organization that brings government policymakers, military leaders, and NGO activists to Auschwitz in Poland so they can learn to recognize the signs of genocide and use their influence to stop it.
Dr. James Waller, recently appointed Cohen Endowed Chair of Holocaust and Genocide Studies, is an affiliated scholar at the Auschwitz Institute and helped open the door for Kelsey. "Her long-term plans are to work in an NGO related to genocide awareness and prevention, so AIPR will be a perfect fit for her," he said.
"I was thrilled when I found out that I had gotten the internship with the Auschwitz Institute. What the Institute does is exactly what I hope to do one day: educate world leaders and military personnel about genocide, how to prevent it, what the warning signs are, and what to do if and when it occurs," Kelsey said. "KSC has definitely provided me with an outstanding and unique opportunity; the staff and other students have been very welcoming. I owe Dr. Waller a huge 'thank you' for making it possible for me to get this internship with the Auschwitz Institute."
Kelsey will begin her internship by working with Dr. Waller on campus during the spring semester. She'll be helping him prepare for the April seminar the Institute is holding at Auschwitz. Then she will travel to Poland for the seminar with US Army personnel from Fort Leavenworth. During the summer, she will be interning at the Institute's offices in New York City, probably helping prepare for two seminars they'll hold next fall.
"I think she will be a great fit for the Institute and the Institute will be a great fit for her," Dr. Waller explained, "and I'm sure she'll pave the way for future KSC students to go in this same direction!"