KSC Basketball Goes "Code Red" for Plymouth Games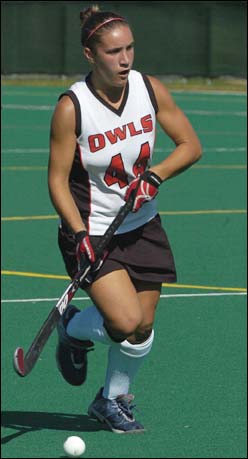 KEENE, N.H. 2/6/09 - Keene State fans and the Keene community will not only be asked to come out and support Owl basketball teams, but also KSC field hockey player Erin Dallas on Tuesday night.
Both women's and men's games against rival Plymouth State, scheduled for 5:30 and 7:30 p.m., respectively, will be a benefit to support the medical expenses of Dallas, a junior from Marlow, N.H.
Dallas, a two-time All-America, suffered a knee injury during the season. She developed a post-surgical infection following her ACL operation in December. Since that time, Erin has been hospitalized and has had multiple operations.
In lieu of tickets, fans will be asked to make donations, at the minimum of the ticket value, with all proceeds going to Dallas.
In addition, the Keene State field hockey team will be sponsoring a 50-50 raffle, and the student athletic activities committee (SAAC) will be handing out "Code Red" T-shirts to students. The Owls will be looking to greet the rival Panthers with a sea of red when they take the court at Spaulding Gym.
The event is sponsored by the President's office, the Lloyd P. Young Student Center, KSC Health and Wellness office, KSC athletics, and Owl men's and women's basketball teams.
Both men's and women's basketball game will televised on LittleEast.tv. (http://littleeast.ezstream.com)
Related Stories