Hearing Loss Is No Barrier to Jaime Del Pizzo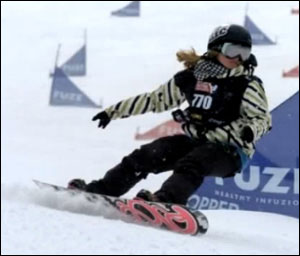 Like many students at KSC, junior Jaime Del Pizzo is a film major. But she's a film major with significant hearing loss. You'd think that would be a serious impediment to film study, but not in Jamie's case. She uses assistive technology, hearing aids, and an FM system, and sometimes relies on note takers to help her in her classes. The Office of Disability Services also sends an email to each of her professors every semester requesting that films and video materials be captioned, so that Jamie will have access those educational materials.
"Her biggest strength is cinematography," noted Jeremy Kingwill, a film production teaching assistant interviewed in a video about Jaime. "Being such a visual person, she instinctively knows where to get the best shot … her color pattern is off the chart."
She's also an avid snowboarder and has just returned from a semester of study in New Zealand. To learn more about Jaime and how she does it all, check out the article she wrote for About.com's Assistive Technology page on Technology for Deaf & HoH College Students."
Related Stories