Avner the Eccentric Comes to KSC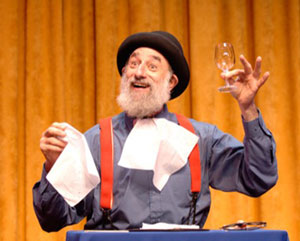 KEENE, NH, 10/28/09 ? The unique comic genius of Avner the Eccentric will be showcased when he appears at Keene State College's Redfern Arts Center on Thursday, November 12, at 7:30 p.m. Jay Siegel of ABC-TV said, "Avner the Eccentric is a brilliant comic … hurt yourself hysterically funny. I laughed for two solid hours. The show only lasted an hour and a half."
Avner Eisenberg is probably best known for his endearing portrayal of The Jewel, the scene-stealing holy man, in The Jewel of the Nile, co-starring Michael Douglas and Kathleen Turner. He was also featured in the film Brenda Starr and the television series Webster and Mathnet.
Avner's one-man show, Avner the Eccentric, was a hit of the 1984-1985 Broadway season. He co-starred in Lincoln Center's production of Shakespeare's The Comedy of Errors and returned to Broadway in 1989 in a principal role in Ghetto. In regional theatre, Avner has played both Estragon and Vladimir in Waiting for Godot, and played the title role in R. Crumb Comix. Avner's new show, Exceptions to Gravity, defies the barriers of language and culture and has toured extensively all over the US and abroad.
Find out for yourself why the San Jose Mercury News wrote "It's not easy for a single performer to keep an audience giggling, chuckling, and even guffawing for an hour and a half without saying a word, but Eisenberg makes it appear seamlessly simple. If you missed him this time, don't let it happen again."
Avner's appearance is funded in part by the New England Foundation for the Arts (NEFA) as part of the National Endowment for the Arts (NEA) regional touring program. NEFA receives major support from NEA with additional support from the six New England state arts agencies.
Tickets and information are available at the Redfern Arts Center box office, 603-358-2168, or online at www.keene.edu/racbp, where you can also view many video clips from the season's Visiting Artists repertoire. Special memberships with many benefits, including free tickets, are also available at the Redfern box office or online.
Related Stories