Sol Y Canto Celebrates the Music of Latin America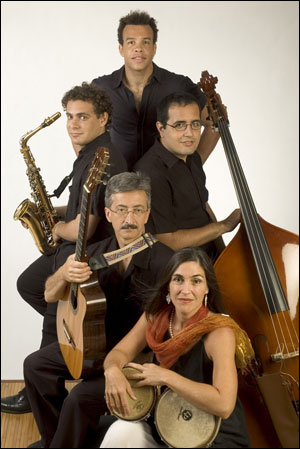 KEENE, NH, 1/6/08 - Sol y Canto, New England's foremost Latin American roots band, will celebrate the rich musical heritage of Latin America and the Caribbean with a concert at Keene State College's Redfern Arts Center on Brickyard Pond on Wednesday, February 4, 2009, at 7:30 p.m. The Boston Globe described Sol y Canto as "sublime ambassadors of Pan-Latin music."
Sol y Canto (sun and song) will also conduct a performance/workshop focusing on songs from their repertoire and oral presentation. The workshop, which is free and open to the public, takes place at the Redfern Arts Center on February 4 at 2 p.m. and revolves around the three main influences in Latin American music and culture: the European, the African, and the indigenous roots.
The heart and soul of Sol y Canto's music is its rich vocal harmonies, sumptuous Spanish guitar, and a combination of beautiful ballads and churning Latin rhythms, each performed with unparalleled depth and enthusiasm. Add wind, percussion, and bass, and you have the ensemble's unique sound.
The band features Rosi Amador's crystalline voice and Brian Amador's lush Spanish guitar accompanied by outstanding Latin musicians from Cuba, Uruguay, Puerto Rico, Argentina, and the U.S. Past winners of Boston Magazine's "Best of Boston" in Latin rhythms and the Boston Music Awards for "Outstanding Latin Act," the group has established a national reputation for its unique brand of Afro-Latin and flamenco-influenced original music, as well as contemporary and traditional repertoire. They have brought audiences to their feet from the Kennedy Center and White House to the California World Music Festival.
The Redfern Arts Center performance will include traditional instruments such as the South America quena (bamboo flute), the Puerto Rican pleneras (hand drums), bongos (large and small drums), and an assortment of small percussion instruments, along with congas, keyboard, accordion, saxophone, flute, and electric or acoustic bass. You can read more about Sol y Canto and hear songs from their albums online at www.musicamador.com/artist/solcanto.htm.
Tickets are available through the Redfern box office, 603-358-2168, or online at www.keene.edu/racbp. Tickets for this performance are $22 for the general public, $20 for seniors and KSC faculty and staff, $12 for youth 17 and younger, and $5 for KSC students with ID.
Tickets for all of the Redfern's presenting events and for performances by the departments of Music and Theatre and Dance are also available. Patrons can still purchase 20/20 memberships that enable them to receive a 20% discount for all Presenting Series performances.
Related Stories