Daniel Maxwell to Present James D. Ewing World Affairs Lecture at Keene State College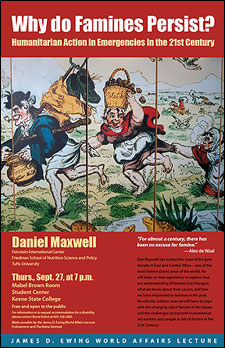 KEENE, N.H., 9/17/07 - Tufts University professor Daniel Maxwell will present Why Do Famines Persist? Humanitarian Action in Emergencies in the 21st Century for the 2007 James D. Ewing World Affairs Lecture at Keene State College on Thursday, September 27, at 7 p.m. in the Mabel Room of the Student Center.
Daniel Maxwell has worked for most of the past decade in East and Central Africa - one of the most famine-prone areas of the world. His current focus draws on that experience: How have we responded to famines in the past and how has our understanding of famines changed? What do we know about their causes? How will we cope with the changing risk of famine in the future and the challenges facing both humanitarian aid workers and people at risk of famine in the 21st century?
For nearly 30 years, Professor Maxwell has held leadership roles in humanitarian program development and management in various roles, mostly in Africa. Much of this work was both addressing the acute affects of famine and food security crises and working to reduce the risk of such crises. For 20 years, he has also been engaged in interdisciplinary-applied social research with an emphasis on famine and food security.
He is currently associate professor of nutrition at the Friedman School of Nutrition Science and Policy at Tufts University and research director, Food Security and Livelihoods in Complex Emergencies, at the Feinstein International Center also at Tufts. He is responsible for developing and leading a program of research in famine and food insecurity in complex emergencies and conducts broader research on humanitarian action and agency quality and effectiveness. Before that, he spent eight years with the CARE- International, East and Central Africa Regional Management Unit. He is the coauthor, along with Chris Barrett of Cornell University, of the 2005 book Food Aid after Fifty Years: Recasting Its Role.
The James D. Ewing World Affairs Lecture Endowment is named in memory of James Ewing, who was the owner and publisher of The Keene Sentinel from 1954 to 1993. The endowment was established to bring speakers to Keene State College and the Keene community to address current public or world affairs issues. For more information, contact Karrie Kalich at 603-358-2885.
Related Stories