Keene State Finishes Program-best 19th in NACDA Cup Ranking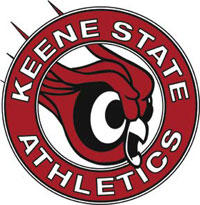 KEENE, N.H., 6/13/07 - Keene State College's highly successful 2006-07 athletic season was reflected in the final U.S. Sports Academy Directors' NACDA Cup rankings, with the Owls finishing a program-best 19 out of 420 Division III institutions.
It's not only the best finish ever by Keene State, but also the highest ranking ever by any New Hampshire institution from Division I, II, or III. In addition, it's also the top finish ever in DIII by any nonplaying public football institution in the country.
"Our goal is to become one of the top Division III programs in the region and country," said KSC athletic director John Ratliff. "The rankings demonstrate our commitment to that goal. The task ahead is to sustain that success on a yearly basis."
Keene State, which finished in the top five percent with 501.5 points, was represented in 11 NCAA championships this season. The Owls sent eight teams to NCAA tournaments, including men's soccer, field hockey, and women's cross country in the fall; men's and women's basketball in the winter; and baseball, softball, and men's lacrosse this spring.
Four teams, men's basketball and lacrosse, women's outdoor track, and baseball, advanced to the sweet-16 and the men's soccer and women's basketball teams played in second-round games. Two KSC teams made their inaugural NCAA appearance this year; the Owl baseball team reached the final round of the New England regional tournament and the women's cross country squad placed 17 out of 35 teams.
Individually, Keene State also had three athletes - Jennifer Adams, Sarah Miller, and Kevin Kelleher - earn All-America honors at NCAA track championships. Despite having just two competitors, the Owl women's track team finished in 14th place.
Regionally, Keene State finished fifth in New England. Williams College claimed its 11th Directors' Cup championship in the last 12 years, with 1,137.5 points. Middlebury was second (1,064.5 points), followed by Amherst (4th, 887.25 points), and Tufts (16th, 545.25 points).
There were also repeat winners in other divisions. Stanford earned its 13th consecutive Directors' Cup Division I title with 1345.50 points (to date), Grand Valley State won its fourth Division II championships with 995.75 points, and Azusa Pacific finished first in the NAIA rankings for the third straight year, tallying 978.25 points.
Related Stories