Beach Earns 500th Career Win as Owls Advance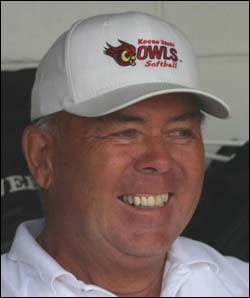 PROVIDENCE, R.I., 5/3/07 - Keene State College Head Softball Coach Charlie Beach earned his 500th career win as the second-seed Owls defeated fifth-seed Southern Maine (USM) 2-1, in game two of the 2007 Little East Conference Softball Tournament at the Dayna A. Bazar Softball Complex on Thursday.
"I'm very proud of reaching this milestone in my career," said Beach, in his 22nd season coaching the Owls. "The last 100 was the quickest. We've won a lot of games lately."
Beach, who has a career record of 500-318-5 (.611 PCT.), becomes the 17th Division III coach to reach the milestone.
The Owls will play the winner of third-seed Western Connecticut vs. fourth- seed Eastern Connecticut (2 p.m.) on Friday, May 4, at noon. The Huskies will play an elimination game against sixth-seed Plymouth State, which lost in the previous game, 2-0, to top-seed Rhode Island College at 4 p.m. this afternoon.
Southern Maine jumped out to a 1-0 lead in the first inning as senior shortstop Christen Lachapelle (Farmingdale, Maine) singled, was sacrificed to second, and scored on junior pitcher Kristina Grondin's (Sanford, Maine) RBI single.
Grondin kept the Owls off the scoreboard for the first two innings before the Owls notched the equalizer in the third. Senior centerfielder Kathleen Gambino (Freeport, Maine) singled and later scored on sophomore third baseman Jenna Patnode's (Surry, New Hampshire) two-out, RBI triple to center field.
Keene State went on top in the fourth as junior shortstop Julia May (Deep River, Connecticut) belted a leadoff triple to right field and was plated on sophomore designated player Katie Allenson's (Clifton Park, NY) one-out, RBI infield single.
"We were lucky," said Beach about the play. "I think their second baseman lost the pop up in the sun. But good teams take advantage of mistakes."
KSC junior starting pitcher Ashlee Nicholson (Swanzey, New Hampshire) earned her 13th win (13-1), allowing one run on five hits to go with eight strikeouts. Grondin suffered her ninth (14-9) loss of the season, allowing two runs on five hits to go along with four strikeouts.
"We hit the ball hard and had some loud outs," said Beach. "But we got some timely hits when we needed them."
USM sophomore center fielder Anita Dixon (Limington, Maine) was the only player in the game to record multiple hits, going 2 for 3 in a losing effort.
Related Stories