Kenneth Jue to Address Keene State Grads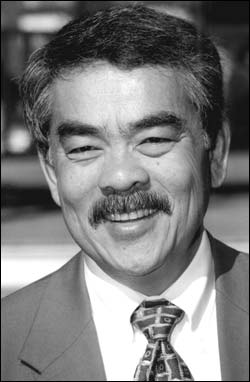 KEENE, N.H., 4/6/06 - Kenneth Jue, chief executive officer of Monadnock Family Services, will receive an honorary Doctor of Humane Letters degree and address KSC graduates at the College Commencement on Sunday, May 6.
President Helen Giles-Gee will award associate's, bachelor's, and master's degrees to the more than 800 graduates who are expected to attend. The event begins at 1 p.m. on Fiske Quad.
Jue is being recognized for his leadership in the field of mental health and his commitment to bringing people and agencies together to serve the people of New Hampshire. He has been member of the Keene community since 1978, when he became director of consultation and education at Monadnock Family Services (MFS). He assumed the role of chief executive officer at MFS in 1998.
He is involved in many of the College's community outreach initiatives, including the Early College Awareness Project (ECAP), a collaborative program with MFS and the Winchester schools. He is a member of the service-learning advisory committee at KSC and has personally supported service-learning projects by KSC students within his agency.
Jue has served for two terms as a Keene School Board member and chair, has been a tireless advocate for Monadnock United Way for more than 20 years, is an active Rotary Club member and past president, and is a lifetime trustee of the Keene Public Library. He holds a BA, cum laude, from Trinity College and a dual master's degree in social work and management of nonprofit organizations from the School of Applied Social Sciences at Case-Western Reserve University in Cleveland, Ohio.
The Commencement Ceremony is the culmination of graduation activities at Keene State. On Saturday, May 5, the Spring Honors Convocation will be held at 4 p.m. in the Main Theatre of the Redfern Arts Center on Brickyard Pond. The Convocation recognizes excellence in student scholarship and leadership, the recipients of undergraduate Academic Honors, the Leo F. Redfern Outstanding Citizen, Who's Who recipients, and discipline and endowment awards in Biology, Chemistry, Communication, Economics, Education, English, Modern Language, Mathematics, Performing Arts, Safety Studies, Management, Sociology, and Women's Studies.
All events are free and open to the public. For information on Commencement activities, call Pauline Dionne at 603-358-2106 or e-mail pdionne@keene.edu.
Related Stories