Keene State Stages Broadway Hit Musical 'Urinetown'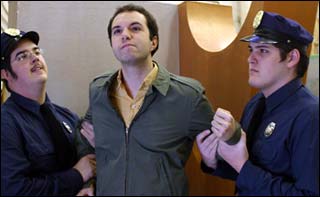 KEENE, N.H. 11/2/05 - Keene State Theatre will be the first college troupe in New England to stage the Broadway hit musical Urinetown at 7:30 p.m. Wednesday to Saturday, Nov. 16-19, and 2 p.m. Sunday, Nov. 20, in the Main Theatre of the Redfern Arts Center on Brickyard Pond. Tickets are $16 for the general public, $13 for senior citizens and youth 17 or younger, and $5 for KSC students. Call the box office at 603-358-2168.
Ron Spangler, assistant professor of theatre at KSC, directs the 2003 Tony award-winning musical comedy set in a Gotham-like city in the not-so-distant future where a severe water shortage forces the city council to contract for pay toilets. The company overseeing the pay toilet system becomes the target of disgruntled townspeople, who revolt against paying to pee.
While the title might suggest otherwise, this musical is a witty and light- hearted romp that pays homage to musical theatre by borrowing different styles ranging from Oklahoma to Fiddler on the Roof and Les Miserables.
"I chose Urinetown because it was so new and because it was so much fun. I also chose it because the music and lyrics are so well done," explained Spangler, who added that this musical would be a great challenge for KSC students because it combines several musical genres.
The title of the play may put off some people, but Spangler encourages people not to think too much about it and just come and enjoy the show, which is very, very funny.
In addition to the political turmoil involved over pay toilets, the musical tells a love story, deals with the power struggle between the haves and the have-nots, and comments on how we manage environmental resources.
"These messages don't hit you over the head, but they're something you may realize after you stop laughing," explains Spangler.
It's been several years since Keene State has produced a musical, because they are so expensive and take so much manpower. In addition to Spangler, music faculty member Diane Cushing is music director, dance program coordinator Marcia Murdock is the choreographer, theatre professor Céline Perron is set designer, and theatre department chairperson Elizabeth Roos is costume designer. A student, Jessica Charest, is responsible for lighting design.
There's also a large cast with KSC theatre faculty member Vaughn West of Keene playing the lead role of the toilet business tycoon. Students playing title roles are Joseph Adams of Dover, Bridget Araujo of Shelton, Conn., Eben Gannett of Thornton, Evan Lidestri of Niantic, Conn., Karissa Mahoney of Salem, and Jill Pettigrew of Dover. There are 12 students in the chorus who perform a multitude of song and dance numbers as policemen or the oppressed rabble. In addition, there are six students in the orchestra. Shannon Sexton of Merrimack is the stage manager.
Related Stories