An Ever-Growing Campus: KSC Construction Update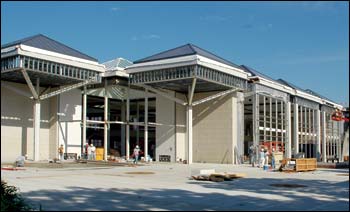 Keene, N.H. 9/9/05 - Last year Keene State College completed the largest facility improvement ever at the College, the Science Center. This year, Keene State undertakes its largest capital investment (over $50 million), with three new student life buildings under construction. The Zorn Dining Commons and two new residence halls, Butler Court and Pondside III, are funded through bonds and student fees for housing and dining. This became possible when the USNH Trustees approved new master plans for all three residential campuses last October and agreed to sell bonds to allow housing of 60 percent of all undergraduate full-time students on campus.
Zorn Dining Commons Nears Completion
The new Zorn Dining Commons is right on schedule with the opening anticipated for October 31. Long identified as one of the most important improvements to our campus, this 53,000-square-foot building is nearly twice the size of its predecessor. When completed, the new Zorn will seat over 900 students, feature several theme-oriented eateries, and display striking architectural features.
New Residence Halls Construction Under Way
Construction of two new residence halls began this July. The Butler Court Residence Hall, located at Butler Court and Winchester St., will house 216 students in living suites of six, eight, and 10 students. Pondside III, located on the north shore of Brickyard Pond, will house 154 students in four-, five-, six-, eight-, and 10-person suites. These three-story buildings will be constructed of brick, have pitched roofs, and reflect the architectural styles of other buildings on the KSC campus. The Pondside III Residence Hall project will seek a LEED certification. The LEED (Leadership in Energy and Environmental Design) Green Building Rating System is a voluntary, consensus-based national standard for developing high-performance, sustainable buildings. The residence hall projects caused major disruptions to the campus this summer by extending steam, water, electrical, and sewer utilities to both the Bruder Street and Butler Court sites. Piles on both sites will continue to be driven until September 2. Butler Court is due to be completed in August 2006, with Pondside III scheduled to be finished in December of that year.
Appian Way Extension
As we complete work on the Zorn Dining Commons and expand campus buildings to our western edges, we have a wonderful opportunity to continue improving our campus landscape. This year, we will extend Appian Way westward, beyond its termination point as a city street to the College's western boundary, Butler Court. Oya Hill is preserved. Next summer the area beyond Spaulding Gym will be completed. After the future construction of a new physical plant building, the Master Plan calls for the development of more open green-space west of Spaulding Gym and ultimately the construction of a River Pathway.
Campus Renovations and Maintenance
The Child Development Center has undergone the first phase of improvements. This project relocates the younger preschool to a completely renovated space located in the northwest area of the building. CDC staff will be relocated so they are closer to the classrooms. Observation windows have been installed for Early Childhood student observations. The entryway has been redefined to better control access into and from the classrooms.
The Modern Languages Lab and classrooms located in rooms 73, 74, and 75 of Morrison Hall were renovated during the summer to provide a larger computer- assisted classroom. Two new seminar rooms were created in the former language lab, and all three rooms have new air conditioning installed.
The Health Services Center, located on the third floor of Elliot Hall, provides educational resources and medical care and screening for Keene State students. This summer Health Services was updated and modernized to provide a more professional, confidential, and comfortable environment. A new service desk makes for easier patient registration, while the entire Center received new ceilings, lighting, flooring, paint, and furniture.
The Sculpture Studio is a former steam plant for the Elliot Hospital. To support the sculpture program's future, the College has made a variety of safety improvements - isolating mechanical services from the classroom space, greater safety for welding within the facility and greater temperature control with air-conditioning, new thermal windows and greater insulation. These improvements will be completed in September.
Looking Ahead - Media Arts Center
Last year the departments of communication, journalism, film, and art/graphic design discussed moving into a single building to gain greater program synergy. The planning stage is well under way, with Burt-Hill Architects and Engelberth Construction Company selected to design and renovate the current Zorn Dining Commons. Once approval has been gained from the USNH Board of Trustees, the planning committee hopes that demolition of equipment and non- structural interior walls and ceilings will begin in November, with renovation work to begin in February. The opening date for the Media Arts Center has been set for August 2006.
For more details visit the construction web page at www.keene.edu/admin/construction.
Related Stories