Larry Welkowitz Honored with Faculty Research Award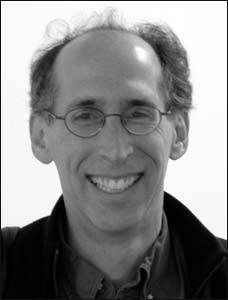 KEENE, N.H. 4/26/05 - Dr. Larry Welkowitz, associate professor of psychology, has been chosen to receive the Keene State College Award for Faculty Distinction in Research and Scholarship for 2004-05. He is the fifth recipient of the award, which recognizes contributions to research and scholarship at Keene State.
Welkowitz's primary area of research is child developmental problems, and he is recognized internationally for his work on Asperger's Syndrome, characterized by problems related to social interaction and other behaviors. He is the co-author of two books: The Hidden Face of Shyness (Avon Books, 1996) and, with his KSC colleague Dr. Linda Baker, Understanding Asperger's Syndrome: Interventions for Therapists, Educators, and Communities (Lawrence Erlbaum Press, 2004). Welkowitz and Baker co-direct the Asperger's Resource Group (ARG), a recent recipient of a grant from the Doug Flutie Jr. Foundation, which helps support their research in Asperger's and related problems.
"Keene State students are fortunate to have Larry Welkowitz as a teacher and mentor," said Dr. Gordon Leversee, dean of sciences and social sciences. "He is an extraordinary 'scientist practitioner' who models learning by investigation and publication, as well as by application of knowledge to real- world problems."
A graduate of Middlebury College, Welkowitz received his Ph.D. in clinical psychology from the University of Hawaii. Before coming to Keene State in the mid-1990s, he served on the faculties of Columbia University (the College of Physicians and Surgeons) and Antioch New England Graduate School. In addition to his research on child developmental problems, he has interests in the prevalence of anxiety problems in communities, including panic and obsessive- compulsive disorder, and developing more effective treatments for those problems.
Welkowitz was recently featured in The Keene Sentinel for his "podcasting" activities, in which he produces short audio web pieces for downloading by students, colleagues, parents, and others interested in Asperger's and autism issues. His web site is welkowitz.typepad.com.
In the Monadnock community, Welkowitz develops mentoring programs for children with disabilities, helps nonprofit groups identify sources of grant revenue, and serves as an assistant soccer coach. On campus, he has begun advising WKNH radio, working to establish more community-relevant programming.
Related Stories