Baroque, Brazilian, British, and Bolivian Music Highlights KSC Guitar Concert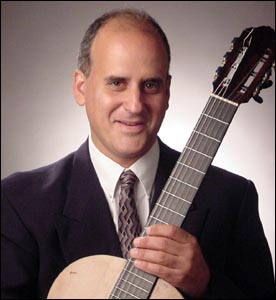 KEENE, N.H. 10/26/04 - Baroque, Brazilian, British, and Bolivian music mingles with the sounds of South American panpipes and charango in a concert by the Keene State College Guitar Orchestra and Latin American Ensemble on Wednesday, Nov. 17. The concert, which also includes music from Chile, Ecuador, and Peru, starts at 7:30 p.m. in the Alumni Recital Hall of the Redfern Arts Center on Brickyard Pond. Tickets are $7 for the general public and $5 for KSC students, senior citizens, and youth age 17 and younger. Call the box office at 603-358-2168.
José Lezcano, professor of music, directs the nine-member KSC Guitar Orchestra and the 27 students in the Latin American Ensemble.
He chose a varied program for the KSC Guitar Orchestra that includes works by Vivaldi, Almeida, Bach, Telemann, and Duarte. Vivaldi's Concerto in B minor for four guitars and orchestra features student and faculty soloists. "Jardin Bontanic" from Brazilian Suite is a charming Brazilian waltz for large guitar ensemble by the late Brazilian guitarist and composer Laurindo Almeida. During his long career, Almeida toured and recorded with the Stan Kenton orchestra and wrote many film scores. Somerset Follies is a set of variations on the famous folia theme for six guitars by John Duarte, a British composer of guitar music whose works have been performed by John Williams, Marc Regnier, and many others. The orchestra also performs Bach chorales and a largo by Telemann.
Lezcano arranged the music for the KSC Latin American Ensemble, which includes mostly new pieces such as Sombrero de Paja y Quina and Papel de Plata. Also featured is La Bella Cubana, a haunting 19th-century habanera by the great Cuban mulatto violin virtuoso, José White, who was a close friend of Rossini. The ensemble plays panpipes, charango, guitars, flutes, and Andean percussion to perform music from Bolivia, Chile, Ecuador, and Peru.
Lezcano, a Cuban-born guitarist, composer, and folklorist, teaches music theory and Latin American music at Keene State. His programs of traditional guitar repertory and Andean music have taken him from Carnegie Recital Hall to major festivals in Quito, Lima, and Rio de Janeiro. In March he toured Hamburg, Cologne, and Bonn, with flutists from South America performing works by himself, Piazzolla, and other Latin composers. He has received numerous national prizes and awards, including in 2003 a New Hampshire State Arts Council Individual Artist Fellowship and Keene State's Award for Distinction in Research and Scholarship.
Related Stories