Writer/Activist Janisse Ray Will Speak at Keene State on Oct. 21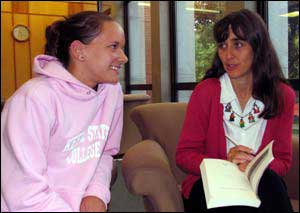 KEENE, N.H. 10/5/04 - "Our most vital challenge in the 21st century," says writer and environmental and political activist Janisse Ray, "is figuring out individually and collectively how to lead whole lives, how to live well, despite the destruction around us."
Ray, whose memoir _Ecology of a Cracker Childhood _is Keene State College's summer reading book for 2004-05, will speak about "Re-Making the Wild World: Ecology in a Time of War" on Thursday, Oct. 21, at 7 p.m. in the Mabel Brown Room of the Student Center. The presentation is free and open to the public.
In her talk, Ray, who also serves as the College's first writer-in-residence this year, will address her concern that as people lose their connection with their native landscapes, this fragmentation is also "mirrored in our psyches, families, and communities."
Ray grew up in a junkyard in Baxley, Ga., along U.S. Highway 1. _Ecology of a Cracker Childhood _tells how a childhood spent in rural isolation grew into a passion to save the almost vanished longleaf pine ecosystem.
She earned a graduate degree in creative nature writing from the University of Montana, where her chapbook, Naming the Unseen, won the 1996 Merriam- Frontier Award. She has been an assistant editor at Florida Wildlife, has taught English in Colombia and has served as a writer in residence at the University of Mississippi. Ray has published essays and poems in Wild Earth, Hope, Tallahassee Democrat, Alaska Quarterly Review, Missoula Independent, Natural History, Orion, Orion Afield, Florida Wildlife, Florida Living and Georgia Wildlife, among others. She has been a nature commentator for Georgia Public Radio. She recently moved to Brattleboro, Vt.
For more information, call William Stroup, assistant professor of English, at 603-358-2692.
Related Stories