Thorne Gallery Opens Passionate Pursuits Exhibition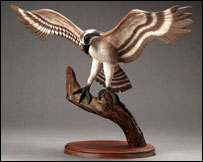 KEENE, N.H. 5/5/04 - The Keene State College community and Friends of the Thorne will share their creations, collectibles, and leisure pursuits in "Passionate Pursuits," one of two summer exhibits at the Thorne-Sagendorph Art Gallery. The second exhibit, "Selections from the Collection" will showcase artwork from the Dublin Art Colony as well as contemporary pieces. Both exhibits will open with a reception on Friday, June 4, from 4 to 6 p.m. and will be displayed from Saturday, June 5 to Wednesday, Aug. 4.
"Passionate Pursuits" will feature arts, crafts, collectibles and leisure pursuits from the Keene State faculty, staff, students, alumni, and Friends of the Thorne. This show will give the campus community and the Friends the opportunity to share their talents and interests with the larger Monadnock community and each other, says Maureen Ahern, director of the Thorne Gallery.
The first "Passionate Pursuits" exhibit in summer 2002 included a variety of handcrafted and collectible items such as baseball memorabilia, a Native American collection, and woodturned containers. This summer's show will include leisure pursuits such as photographs depicting KSC staff member Dave Orsman's passion for rock climbing and student Brian Patrick Paquette's installation of hand-colored pictures of swimmers and divers. KSC alumna Kitty McClure Maher will show her handcrafted baskets and Friend of the Thorne Ardis Roisum will display items from her carved bird collection.
This is not a juried show, and the gallery will display as many items as it has room for on a first-come, first-served basis. Contributors are asked to drop off one large item or up to three smaller pieces on Thursday and Friday, May 13 and 14, from 8:30 a.m. to 4:30 p.m. and Saturday, May 15, from 10 a.m. to 2 p.m. at the gallery or make an appointment if these times are unsuitable. Contributors should be prepared to complete a short form explaining why they created or collected each item.
Work by 19th-century artists from the Dublin Art Colony, which flourished around New Hampshire's Mount Monadnock into the 20th century, will be highlighted in the exhibition "Selections from the Collection." The Thorne has in its permanent collection several original works by Dublin Colony artists, including Barry Faulkner, Alexander James, Aimée Lamb, Richard Meryman, William Preston Phelps, and Joseph Lindon Smith. Contemporary artworks by George Rickey, Robert Mapplethorpe, Vargian Bogosian, and Jules Olitski will also be shown as part of the Thorne's permanent collection.
The Gallery is currently seeking donations of art and contributions to enable the purchase of artwork to enhance its Dublin Art Colony holdings. Gallery officials are especially interested in adding works by Frank Weston Benson, George de Forest Brush, Rockwell Kent, Lilla Cabot Perry, and Edward Tarbell. The Thorne Gallery's mission to acquire works by Dublin Art Colony artists has been endorsed by the Dublin Historical Society and by the Historical Society of Cheshire County.
During the summer the Gallery is open noon to 4 p.m. Saturday, Sunday, and Monday and noon to 6 p.m. Tuesday and Wednesday. The Gallery is closed Thursday and Friday during the summer and also will close Saturday through Monday, July 3-5 for Independence Day.
The reception and exhibits are free and open to the public. Located on Wyman Way on the Keene State campus, the Gallery is accessible to people with disabilities. For information, call 603-358-2720 or visit www.keene.edu/tsag.
Related Stories